Ten years ago, the Bethlehem Haven emergency women's shelter was faced with a decision. Homeless transgender women were turning up at its doorstep and the shelter's administrators had to decide whether to admit them.
For Marcia Snowden, who lived as a nun for 36 years, it was a no-brainer.
"I didn't wrestle with it at all. All we saw was a person who was going to be out in the cold if we didn't find a place for them," Snowden says. "These are people. And to see the agony in their eyes — there is no place for them to go — was very, very difficult. I could not have turned them away."
And thus began an off-the-books policy of admitting trans women to Bethlehem Haven.
Today, the shelter is listed on the Allegheny County website as the shelter for trans individuals. Its evolution over the years is a model for how shelters can adapt to meet the needs of transgender homeless populations.
Under city and county law, shelters can't deny access to a homeless person because of that person's gender identity. But despite local directives and federal regulations, experts say, shelters locally and around the country aren't as welcoming as Bethlehem Haven.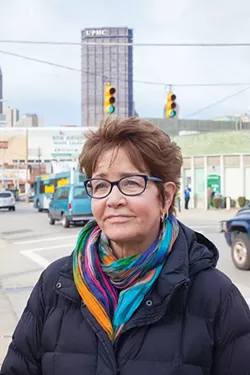 "Transgender people across the country have regularly reported being turned away from shelters," says Harper Jean Tobin, director of policy for The National Center for Transgender Equality. "They've been told, 'We don't serve transgender people here,' or 'You need to show legal documentation, medical documentation proving your gender.' People are being housed according to the gender they were assigned at birth even if that's not how they identify or live. And [there are] high rates of people saying they have been abused, harassed, thrown out or sexually assaulted in shelters."
Despite the government mandates in effect, critics say trans individuals are still being discriminated against at local shelters. While the county maintains that all of its shelters can accommodate homeless trans men and women, today, out of the estimated 3,700 people receiving homeless services from the county, only two identify as trans.
While it's possible that many of the county's trans clients aren't identifying themselves, it's difficult to overlook the paucity of trans individuals in the county's tally, especially when national statistics say 1 in 5 trans individuals will experience homelessness at some point in their lifetimes.
"We know that a lot of folks who are transgender who aren't in our shelter are on the street," says Caroline Woodward, of Bethlehem Haven. "[Many] will be evicted from their home because of their gender choice."
Moving forward, Allegheny County's Department of Human Services says it's working to make its shelters more accommodating of the trans community. And a newly proposed rule by the U.S. Department of Housing and Urban Development would create further protections for trans men and women while making their experiences in shelters more welcoming.
"I think across the country the transgender community is overrepresented in the homeless community, so we've tried to make sure our providers understand that this is a vulnerable population," says Chuck Keenan, housing coordinator for Allegheny County. "We're trying to get the impression out that we're welcoming, and we want to serve them regardless of their gender identity or expression. But I just don't know that that's trickling down to the community yet."
Grow, dream, courage, compassion, integrity. Words like these fill the walls of Bethlehem Haven. The emergency shelter, nestled in an Uptown alleyway, has garnered a glowing reputation for openness to transgender individuals.
It's a welcome change for Snowden, who served as the director of residential programs at Bethlehem for three years, and says the shelter's decision to welcome trans women 10 years ago wasn't celebrated at the time.
"It was a little bit tricky because there was no real policy about transgender people. After I brought one person in, I had called around to the county and everybody just danced around it, and the message I got [was], 'Just do what you need to do,'" says Snowden. "At that time, there was no discussion. But we were very clear that we would not leave people out on the street."
Without any directive from the county, Snowden and her colleagues learned how to adapt the shelter to meet the needs of trans women. And they also worried whether their decision to take in such individuals would endanger the shelter's funding.
"It was a little bit nerve-wracking because a lot of our funding for our shelter and other programs was federal funding, and I thought this was a major violation," says Snowden. "So the staff would huddle together and say, 'How are we going to do this?' And we would just do it, keep it under the radar as much as we could."
A lot has changed at Bethlehem Haven since then. Eight years ago, there was a separate room for trans women and a separate shower and toilet.
"We've grown a lot since then," says Woodward, Bethlehem Haven's chief officer of philanthropic engagement and strategic initiatives.
Today, none of the rooms on the emergency floor have doors. And Bethlehem Haven's staff has received training to make sure the shelter is more welcoming in other ways.