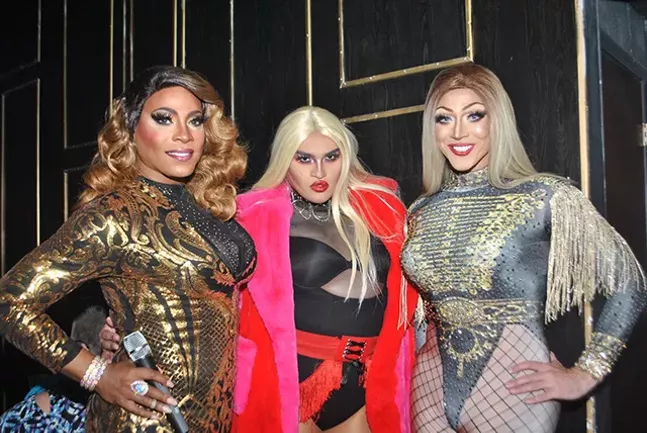 Pittsburgh partiers who identify as LGBTQ know of places like Tilden and Hot Mass at Club Pittsburgh. But the scene is growing, giving the community more options to hit the dance floor in a safe, welcoming space.
Jellyfish at P Town. 4740 Baum Blvd., Oakland. jellyfishpgh.com
Jellyfish stands out from a lot of dance parties in Pittsburgh – the music veers from the usual bangers and club mixes, giving crowds a generous taste of Italo disco and pop hits from decades past, as well as plenty of New Wave, post-punk, and other genres. It's also explicitly a "queer dance party" for LGBTQ people.
Since launching in 2017, the event has thrived at P Town, a low-key Oakland bar that has served the city's gay community for over 10 years. There, Jellyfish DJs Adam Shuck, Stephanie Tsong, and Ricky Moslen play to a diverse crowd every month. When the weather warms, they move to the adjacent courtyard, where hungry dancers can buy slices from the neighboring Vocelli pizza place.
In a collective statement, Shuck, Tsong, and Moslen say, "Jellyfish is a big creative outlet for each of us. As three queer DJs, the queer element has always been inherent to Jellyfish, and we've been super excited by the friendly – and cute – crowd that's come together around it!"
On Fri., June 14, Jellyfish will celebrate its first courtyard disco of the season, which will feature a special set from Naeem of the Pittsburgh house/techno music collective, DETOUR. They will also appear at The Andy Warhol Museum on June 28 as part of an event for the 50th anniversary of the Stonewall riots.
Pgh Bro Club at Brillobox. 4104 Penn Ave., Bloomfield. brilloboxpgh.com
Things can get a little rowdy at Pgh Bro Club, but it's never boring. Presented by DJs Edgar Um and Dad Time (aka Seth Bickford), Kevin Topolski, and Brian O'Korn, the event has attracted a mostly LGBTQ crowd to Brillobox since its launch nine years ago.
"We started the party because we wanted an alternative to dance parties at [Pittsburgh] gay bars," says Edgar Um. "We wanted to have a more eclectic mix of music … specifically un-remixed hip-hop and up-and-coming quirky danceable tunes from all over the globe."
The formerly monthly party (Edgar Um says they now moved to a semi-monthly schedule) consists of underground tunes and classic house and disco, as well as mainstream pop.
"We don't limit ourselves to any one genre," says Edgar Um. "We mash it all up. We like to play music that will make people dance and jump around, lose their inhibitions, and scream."
It has also been known to showcase appearances from local performers and RuPaul's Drag Race contestants Alaska Thunderfuck and Sharon Needles.
Make sure to properly bro out at their next event on July 20.
Sugar at Cake Pittsburgh. 1900 Smallman St., Strip District. cakepgh.com
Jesse Ryan worked for Cruze Bar for more than six years before the LGBTQ space shut down due to renovations in the surrounding Strip District.
"The city has an amazing assortment of 'gay bars' and drag nights, and I think that's awesome," says Ryan. "However, we lost our one place that was more of a dance club than a bar to bust a move, with great DJs, amazing atmosphere, and just a place to be true to yourself, whomever you may be in the rainbow spectrum."
So Ryan created Sugar, a monthly "Pride Party" designed to "bring LGBTQIA+ people together to a special happening where everyone can just get lost in the music, enjoy some great entertainment, and enjoy the beautiful environment."
The event launched in May at Cake Pittsburgh and took over the Strip District nightclub and event space a second time on June 1 with the Pride Kickoff White-Party.
Ryan hopes the event will give the community a place to not only have fun but to make new connections and "be true to yourself and who you're meant to be."
"The rest of society doesn't necessarily need to seek the shelter of a 'safe place' and that's why a space like Sugar is important," says Ryan. "Where all are welcome and judgment isn't tolerated. It doesn't get much sweeter than that."