This holiday season, eco-conscious shoppers are looking for sustainable gifts to give their loved ones while also cutting down on waste. Now the first-ever
Thrifty Paws
will give local pet owners a place to find reused, second-hand items for their furry friends.
The holiday pop-up – taking place at Bakery Square from Dec. 13-15 – will feature a variety of lightly-used dog apparel, carriers, toys, and more to choose from. All proceeds from the event will go towards the care of adoptable dogs, cats, rabbits, and other creatures at Humane Animal Rescue.
Melissa Smith, director of marketing at Humane Animal Rescue, says the idea for Thrifty Paws came from Dr. Julia Morley, a member of Humane Animal Rescue's Junior Advisory Council and owner of Lu-Seal, a local Instagram-famous rescue dog and animal ambassador. Smith adds that Morley came up with the concept of a dog thrift store when she realized that Lu-Seal had more clothes than needed.
"The idea grew as Julia spoke with other pet owners, so she partnered with local pet-related businesses in Pittsburgh over the past year to act as collection sites for gently used pet clothing and products," says Smith.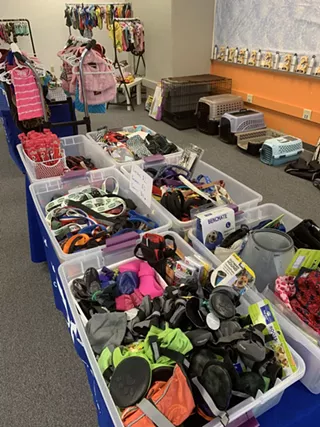 Thrifty Paws comes in a time when studies show that pet-related spending in the U.S. has increased, thus creating a potential market for second-hand pet goods. In May 2019, the nonprofit American Pet Products Association reported that 67% of U.S. households own at least one pet and that overall domestic spending in the industry – which includes everything from pet supplies to veterinary care – rose 4.4% from 2017-2018 for a total of $72.56 billion.
The report also found that millennials represent the largest pet-owning demographic with 80% owning dogs (that percentage also includes pet owners from the younger Generation Z).
While the hesitation to purchase second-hand pet goods is justified, with concerns over spreading parasites or certain illnesses, sources like the online veterinary resource
PetMD
say the practice is acceptable as long as items are thoroughly inspected and cleaned with non-toxic, pet-safe products. In line with that, the Thrifty Paws website specifies that donated beds and toys must either be new or easily washable.
Besides donated goods for dogs, cats, and other small animals, there will also be animal-themed items like clothing and jewelry for humans to purchase.
The Facebook event page says pets are welcome as long as they are well-behaved and on a non-retractable leash.
Thrifty Paws at Bakery Square.
10 a.m.-7 p.m. Fri., Dec. 13; 10 a.m.-7 p.m. Sat., Dec. 14; 12-5 p.m. Sun., Dec. 15. 6425 Penn Ave., Larimer. Free. thriftypawspgh.com