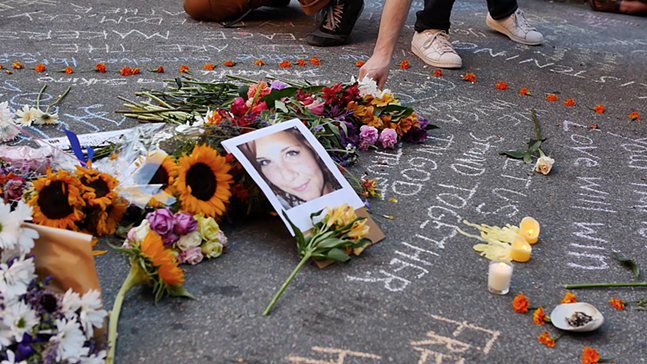 In August 2017, Pittsburgh-based filmmaker Chris Ivey was on his way to Charlottesville, Va. to document the city's Confederate Robert E. Lee statue for his video installation,
We Are Here
. The day before his arrival, however, he saw the Charlottesville riots via a live stream from the nonprofit media collective Unicorn Riot.
"That Saturday morning, I woke up and saw Unicorn Riot live-streaming the attack in Charlottesville," he recalls. "And it was driving me crazy because for the first hour and a half, it was just a live stream. That's the only news coverage that there was, and it was just fighting, and the police just letting them fight it out."
He arrived in Charlottesville the following day and gathered footage of the aftermath, including a memorial for Heather Heyer, the 32-year-old woman killed by white supremacist James Alex Fields Jr. after he drove his vehicle into a crowd of protestors. He was later convicted of first-degree murder and federal hate crimes, among other charges.
Some of the footage Ivey collected was shown at the McGuffey Art Center last week in Charlottesville as part of
We Are Here: Finding Beauty in the Raw
, a video installation commemorating the second anniversary of the fatal clash between a white supremacist rally and counter-demonstrators on Aug. 12, 2017.
A press release stated that portions of the installation focused on the resurgence and impact of hate crimes in the U.S., as evidenced in Charlottesville and the Tree of Life massacre in Pittsburgh.
Ivey says the reception from the Charlottesville community was overwhelmingly positive.
"It's one of the best experiences I've ever had in my life," says Ivey. "People are crying, people are hugging. There are lots of conversations and stuff. I'm just really glad it's really having an impact. It's really doing what it's supposed to be doing."
Conceived as part of Art Up's
Civil Rights, Civil Wrongs
series, which tackles issues involving civil rights in the U.S. and South Africa,
We Are Here
opened at the Mattress Factory in May 2018. The immersive, four-channel video installation addresses racism and spirituality through personal narratives from various subjects.
Besides segments on Charlottesville, the work also covers the cultural histories of Mardi Gras Indians in New Orleans and Tweede Nuwe Jaar celebrations in Cape Town, South Africa. Also included are instances of racism in Pittsburgh, including the shooting death of teenager Antwon Rose II by a police officer, and the lack of attention given to the deaths of young Black women in the city over a three-year span.
Ivey wanted to gather personal stories from people who experienced such tragedies as a way to prevent them from being forgotten or misreported in the frantic news cycle. This includes an interview with activist Wednesday Alva, a victim in the Charlottesville car attack who was featured in
We Are Here.
Ivey also plans on adding a segment on the devastating Grenfell Tower fire in London, which was partly attributed to building materials produced by the Pittsburgh company Arconic.
"It's just horrific, and it's one of those things we talked about for two or three days when it happened a couple of years ago, but unless you're living it, it's going to get forgotten about," says Ivey.
On Aug. 23, Ivey returns to Charlottesville to present a discussion with Heyer's mother, Susan Bro, as well as Alva and Dr. RaShall Brackney, a 30-year veteran of the Pittsburgh Police Department who now serves as Charlottesville's police chief.
Ivey hopes that his video installation and events like the community discussion will help move the public to take action against the political and ideological beliefs that lead to events like those in Charlottesville.
"It's easy to complain and rant, but how do we constructively go forward to make things better?" says Ivey. "Enough marching, enough chanting — we need strategic planning. We need to do something."