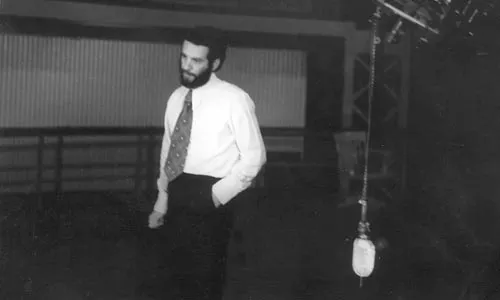 While an early highlight of his film career was helping cast 400 zombies for the George Romero classic Dawn of the Dead, Michael D. Lies' memories of the late 1970s include two projects even closer to his heart. And now, his short films "Head Prints" and "A Ride Through the Fields" -- the latter a showcase for a fledgling makeup artist named Tom Savini -- screen for the first time in some 20 years.
Lies, 61, who grew up in the Lower Hill and was a member of Pittsburgh Filmmakers in its early, scrappier days, visits the Jan. 13 installment of Film Kitchen, along with fellow local filmmakers John Landis and Sean Ferris.
"Head Prints" is an experimental piece; its cryptic storyline involves a man kidnapped by aliens. With its overlapping images and spacey electronic soundtrack, the trippy film is much of its time, reflecting the surrealist influence of Fellini and others Lies discovered at the old Pittsburgh Playhouse film series. "Head" concludes with black-and-white footage of cars moving through a tunnel that turns their headlights into a processional of poltergeists.
"Ride Through the Fields" is an allegorical fantasy about a pile of books that transform into their subjects -- nun, Viking, Galileo, bare-knuckles boxer -- all under the observation of disbelieving scientists. Savini did much of the makeup.
Lies was still working on "Head" and "Ride" when he signed up with Romero to become the casting assistant behind "nurse zombie," "sweater zombie" and "Hare Krishna zombie." Dawn of the Dead was of course also Savini's gory big break (as makeup artist and actor), and a career boost for many local film workers.
In the '80s, Lies made industrial films and instructionals before returning to school. He later launched his current business, which sells medical imaging equipment. But lately, Lies, who lives in the South Hills, has returned to filmmaking. His futuristic science-fiction short "Experiment 6" is in post-production, with a possible spring premiere.
"A little twist of the truth here and there will get your sales through the roof," says telemarketer Arthur Cullipher. He's an artist and hipster, sarcastic and smart, and after eight minutes of John Landis's documentary "This Has Not Been a Recording: Confessions of a Telemarketer," Cullipher might even convince you to stop resenting the sales calls that interrupt your dinner.
Landis, 26, met Cullipher in Bloomington, Ind., where Landis was attending college and working as a telemarketer himself. Landis, now employed at Pittsburgh Filmmakers, observes that people passively accept TV and radio advertising, but go ballistic on telemarketers. He calls his 2005 short "the unspoken other side to the do-not-call list."
Film Kitchen 8 p.m. Tue., Jan. 13 (7 p.m. reception). Melwood Screening Room, 477 Melwood Ave., N. Oakland. $5. 412-681-9500 or www.filmkitchenpgh.org