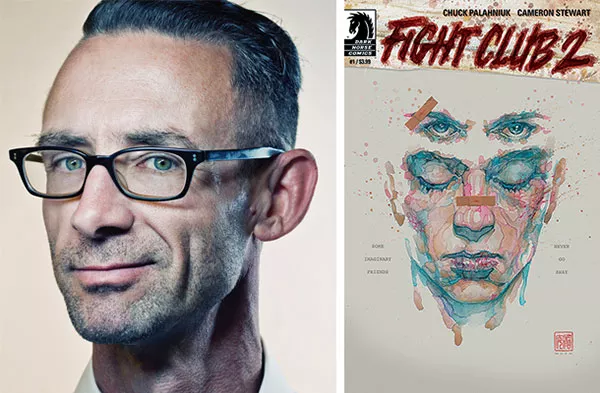 Many of his readers, Chuck Palahniuk believes, discovered him in high school and college and stuck with him. But Palahniuk says his writing has changed a lot since Fight Club, his 1996 debut novel that achieved mass-cult status thanks to the 1999 film adaptation.
The evolution is illustrated in Make Something Up: Stories You Can't Unread (Doubleday), his first collection of short fiction. It will be published May 26, simultaneously with Fight Club 2, a comic-book sequel to the novel.
The stories in Make Something Up span 12 years, and many delve into the dark, disturbing subject matter his fans embrace. But while some are written in his familiar minimalist style, others employ a "very traditional modernism," he says. And a few are experimental, "where I kind of ... make the language do unlikely, awkward things, the things that proper language can't do," he says by phone from his home turf near Portland, Ore.
"Eleanor," for example, is a showcase of wordplay narrated in a kind of pidgin of misused verbiage: "Randy and the reality agent, they only stand and awe." Says Palahniuk, "The context defines the word instead of the word actually being the correct word."
Four other stories are narratives of contemporary life told in the form of traditional animal tales, including "Why Coyote Never Had Money for Parking." "What I like about that [technique] was that it allowed me to tell a very suburban, human story, but do it through this kind of mythical animal form that made it seem a little more detached but profound at the same time," says Palahniuk.
The collection also includes "Expedition," a newer story that's "kind of precursor story to the Fight Club story," he says.
Fight Club is further expanded in Fight Club 2, a Dark Horse Comics series featuring art by Cameron Stewart. "I thought it would be a fun way to tackle creating a larger mythology, expanding the whole Fight Club story into the past and the future," says Palahniuk. "If I'm going to have to talk about it for the rest of my life, at least the story will be expanding."
Fans at Palahniuk's sold-out Pittsburgh Arts & Lectures show can expect a wild, interactive evening, and are encouraged to wear pajamas for what the author calls a slumber-party vibe.