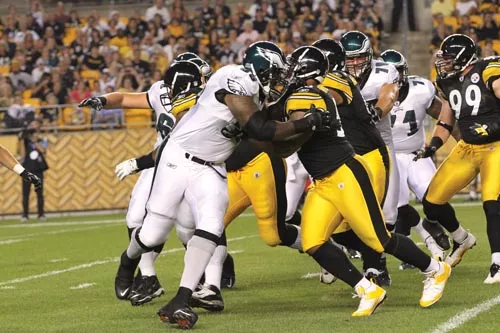 Emmanuel Sanders finished Super Bowl XLV with a walking boot on the foot he'd broken that night. But it wasn't the pain in his foot that bothered him most while the confetti showered the field and the Green Bay Packers celebrated their 31-25 victory over the Steelers.
"I thought to myself, 'Man, I have to know what [winning the Super Bowl] feels like,'" Sanders told City Paper during Steelers training camp in Latrobe a couple of weeks ago. "Seeing them celebrate like that -- it just wasn't right."
That defeat was in February, and since then some of Sanders' teammates have shot themselves in the foot.
A player lockout didn't cut into the season, but it prevented mini-camps and other offseason workouts from taking place. (It also had the usual finger-pointing and whining over how to split $9 billion.) But the Steelers made up for lost time: Gone are the days when a Steelers offseason was as calm as an episode of This Old House. This year, the six-time Super Bowl champions had a summer that featured more drama than an episode of Jerseylicous.
Among the highlights:
-- Running back Rashard Mendenhall tweeted about the death of Osama Bin Laden: "It's amazing how people can HATE a man they have never even heard speak. We've only heard one side."
-- Meanwhile, despite being locked out, Ryan Clark and LaMarr Woodley found time to trash-talk the Baltimore Ravens, ripping Ravens quarterback Joe Flacco and challenging running back Ray Rice. Clark also got into a verbal altercation with a local sports-radio host at the start of training camp.
-- Receiver Hines Ward won Dancing With The Stars … but then followed it up by getting arrested for drunk-driving in Georgia. (Ward denies the allegation.)
-- Linebacker James Harrison left no button unpushed during an interview with Men's Journal. In it, he called Mendenhall a "fumble machine" and criticized quarterback Ben Roethlisberger for his Super Bowl performance. He also made it known that if NFL Commissioner Rodger Goodell "was on fire and I had to piss to put him out, I wouldn't do it." Harrison later apologized.
The Steelers franchise has rarely had so much drama packed into one offseason. Previous high-profile incidents -- like those involving Roethlisberger -- have garnered headlines, but they were typically focused on just one athlete.
Will Black and Gold fans remember this when the season begins? Players routinely insist that off-season drama has nothing to do with on-field performance.
"The beautiful thing about a team is it brings all different kinds of personalities together for a common goal," tight end Heath Miller said during a break in the action at Latrobe. "We're a veteran group of guys who have been around each other for a long time. We are able to deal with situations like this better than other teams."
But these situations are more prevalent and deeper than ever before and questions remain. For example, how will Roethlisberger and Mendenhall receive Harrison when adversity strikes? How will Flacco, Rice, Clark and Woodley respond to the war of words? And how will Ward perform with court proceedings and bad press likely pending?
That's a lot of uncertainty to be sure. However, Steelers fans shouldn't fear too much, because as much as some things are up in the air, there are others that are as certain as the season starting on Sept. 8. For example,
The defense will stop the run.
The offensive line will give up sacks.
Ward will throw punishing blocks and smile afterward.
Roethlisberger will rally his team from a fourth-quarter deficit to win.
Superhero safety Troy Polamalu, when healthy, will play like a hyena hopped up on Red Bull.
Harrison and Woodley, the latter fresh off a new mega-million-dollar contract, will play extremely angry.
Steely McBeam will remain among the lamest mascots of all time.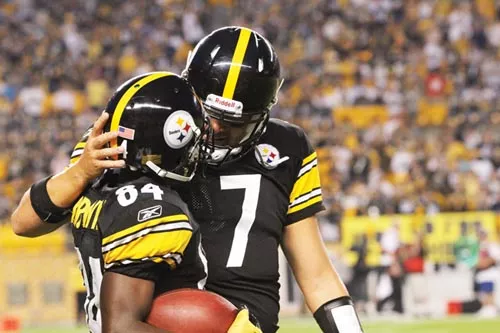 Personnel-wise, the Steelers squad that takes the field against the Ravens on Sept. 11 will look almost identical to last year's squad. (See our list of up-and-coming players to watch here.) According to Mike Wilkening, senior editor of Pro Football Weekly, that's not a bad thing.
"The Steelers are regarded as a league power," he says. "They're about the same as last year. They've done the necessary things of getting younger, but keeping the core group of guys."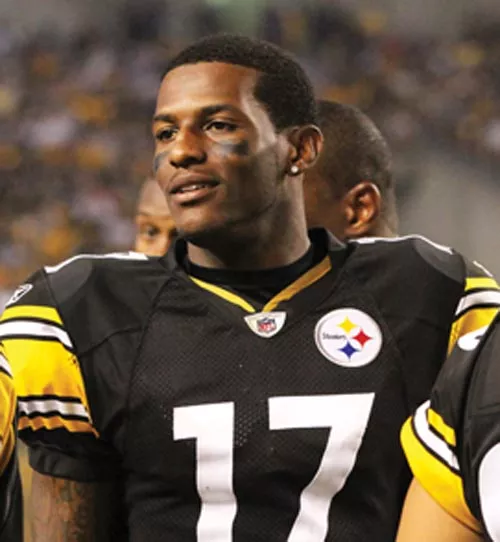 That means the offensive huddle will still feature names like Roethlisberger, Ward and Mendenhall -- where they'll be joined by blazingly fast receiver Mike Wallace. Unfortunately, the offensive line's woes will also likely be making a repeat appearance.
Outside of Pro Bowl center Maurkice Pouncey, there's not much of a proven commodity among the big boys. Roethlisberger has defended his maulers, but there's no denying the 82 sacks he's suffered through the past two years.
The defensive front, by contrast, figures to be as reliable as ever. Aaron Smith, Casey Hampton and Brett Keisel are still positioned to stuff the run, and their understudies are impressive too. Third-year player Ziggy Hood and rookie Cameron Heyward have the type of physique that makes you want to do sit-ups just from being in the same room with them.
"My strength is there," Heyward says of his readiness for NFL play. "I just need to get more technically sound."
Heyward headlines a draft class that also includes Florida tackle Marcus Gilbert and Texas cornerback Curtis Brown. Matt Feminis, associate editor and draft expert of Pro Football Weekly, says the draft class "has a chance to be solid if unspectacular."
The defense's usual quartet of star-studded linebackers returns, with Harrison and Woodley flanking Lawrence Timmons and James Farrior. In the secondary, shutdown corner Ike Taylor was re-signed and will join Bryant McFadden, Clark and Polamalu. That group will need to improve upon a Super Bowl performance that saw it surrender 309 yards and three touchdowns through the air.
The good news is that throughout the rest of the 2010 season, the secondary proved it could stop the pass. Once the team's Achilles heel, the pass defense ranked fifth overall a season ago, giving up just 199 yards a contest.
Coupled with the fact that none of the other teams in the AFC North -- the Ravens, Bengals and Browns -- has improved much on paper, that performance should put the Steelers in the driver's seat on the way to the playoffs.
Baltimore appears to be Pittsburgh's only major competition. The Ravens traded for veteran receiver Lee Evans and signed veteran running back Ricky Williams. But they did little else, while losing mainstays Derrick Mason and Todd Heap.
"Baltimore lost more than it gained in the offseason," Wilkening says. "When it comes down to it, they aren't the same depth-wise [as the Steelers].
"I'd be surprised if [Pittsburgh] didn't make the playoffs again," he adds. "They're just such a tough team."
Tough, yes. But can the Black and Gold stay out of its own way? Even if the team has moved past its off-season distractions, who knows what unpleasant surprises may be in store.
"It doesn't affect the team," Sanders said confidently about off-field fiascoes. "[Coach] Mike Tomlin already addressed it. At the end of the day, we're professionals. And we have a bunch of guys who want to win."