While fiber art has long since entered the realm of "high" art — think of artists such as Rosemarie Trockel, who are prominent figures in the international contemporary art scene — it is still often categorized in the same way as other crafts like glass, ceramic and metal. Hence the need for institutions and organizations dedicated to specific categories. However, just as museums continue to expand the definition of art, so too should organizations that promote and exhibit a particular subset. With its Fiberarts International, the Fiberarts Guild of Pittsburgh seems to be doing just that.
On display simultaneously at two different venues, the Pittsburgh Center for the Arts and the Society for Contemporary Craft, the exhibition presents a variety of styles, subject matter and mediums by 64 artists from around the world. Juried by Toronto-based textile artist Kai Chan, Costa Rican textile artist Paulina Ortiz and Joyce Scott, a Baltimore-based artist best known for her beadwork, the show is varied and presents current trends in textile practice.
In jurors' statements, the panelists express a preference for work that is technically proficient but also innovative, expressive, unclassifiable — art that provides a cohesive package of concept, form, structure, scale, color and material.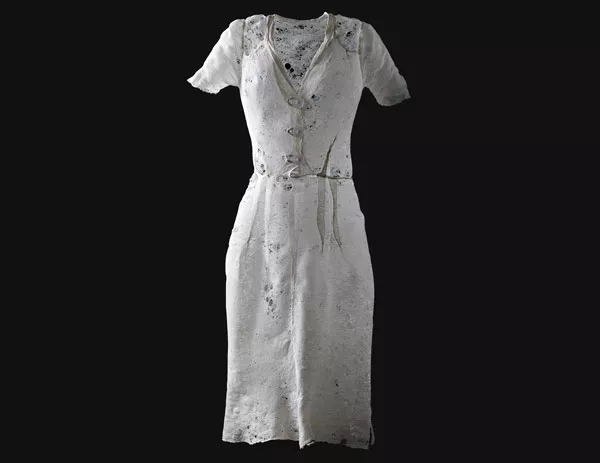 Exploring themes ranging from specific political issues to the very definition of a certain medium, these artists blend traditional techniques with nontraditional and even recycled materials. The work ranges from realism and portraiture to the surreal and abstract, from diminutive to monumental, and from handmade to machine-made.
There are works that are technically in the "wearable" category, although most would be destroyed if donned. Socks by Carol Milne are made of wax and glass. Collars by Aram Han are studded with rice. April Dauscha's impractical lace chin-veil literally falls from the face of its wearer while she speaks in a video called "Act of Contrition."
Several other works also comment on women's history. Sandra Jane Heard's "Vestiges of Emancipation" is a group of distorted corsets woven out of rusted vintage measuring tapes. Julie Sirek's "Dissolving Dream" is a delicate paper wisp of a dress that speaks to domestic violence. Other creations, like Rosslyn Ritter's "Love Letters," are very personal: Onto her mother's wedding dress Ritter has embroidered words from her father's letters.
Other artists also use clothing to explore different topics or techniques. Rebecca Siemering's "Captain America Suit" uses lottery tickets that she finds on her daily neighborhood walks to comment on our mostly futile pursuit of the "good life." Linda Rettich explores Ndbele design in her beaded collar, and Inge Dam's shawl is inspired by ancient tablet-weaving from the Iron Age.
But many of the pieces are two-dimensional, and they encompass a multitude of styles and sizes in a range of colors. On the smaller scale are works by Stephen Sidelinger, whose dexterity with embroidery in "Big Yellow" and "Pirates #1" make them look at first glance like abstracts in paint or print. Tod Hensley's surreal embroidered miniatures are a mash-up of James Ensor and Hieronymus Bosch. Hensley uses a black velvet background to enhance his colors and textures. Kate Kretz also uses black velvet to underscore the pathos of her embroidered sacrificial lamb in "The Final Word."
Other two-dimensional works take advantage of scale and overworked materials to make a statement. Made from recovered afghans and countless beads, "She Speaks Folly in a Thousand Holy Ways" and "Triptych with 206,720 Beads," both by Samantha Fields, are spectacularly garish and overwrought. More subdued yet similarly prodigious is Julie Abijanac's "Disease Mapping," a topography of recycled paper that's patterned on cellular growth.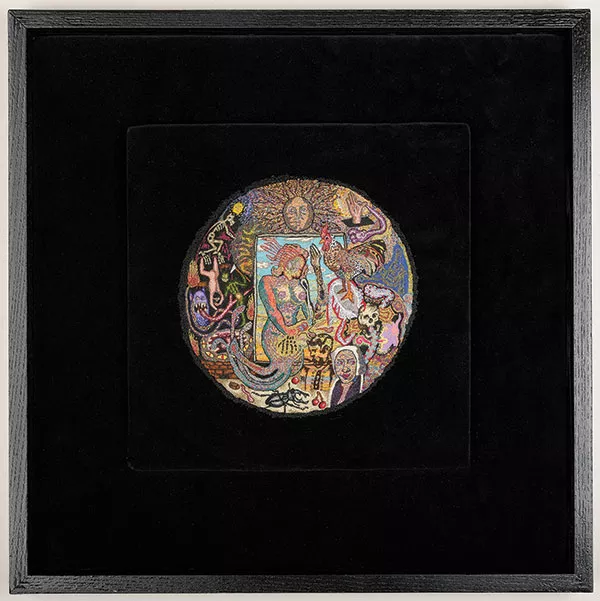 Other works that mimic organic shapes include Josefina Concha's "Cuerpo Zurcido VIII," which could be fungus or skin; Hiromi Murotani's "Scenery," a mass of protruding tentacles; Barbara Murak's "Divide," a brain-like knitted hunk; and "That Which Is Empty, May Be Filled," a giant nest by Leslie Pearson. There is even a fantastical rodent-like creature by Isobel Blank, and Anna Goebel that uses real moss in "Greetings From the Forest."
Still other works are based on personal history or identity. Maggie Scott uses photo-realism; Jim Arendt uses portraiture; and Katie Serralde, Jiseon Isbara and Joy Ude each uses a more conceptual approach.
What is apparent from this large international exhibition — that includes felt, lace, basketry, and even metals, ceramic, glass, encaustic and print — is that "fiber art" is no longer a narrow or marginalized category, but one that is ever-evolving.