Food is one of the primary channels for passing on and enlivening cultural heritage. Taste can be the key that unlocks powerful family memories or fosters connections between family members and friends when they are apart. Ferment Pittsburgh and Chatham University's Center for Agriculture, Food and Transformation (CRAFT) are both interested in fostering these connections using a library system for fermentation cultures.
Ferment Pittsburgh is a project designed to influence the growth of fermentation cultures in the area. For the past few years, the organization has been running an informal library for cultures (living organisms that propagate foods like yogurt, kombucha and sourdough bread). Now Ferment Pittsburgh wants to invite the wider public to be more involved in the project.
"It's a natural evolution because people ask me for cultures or where they can get them. I wanted to make that a little more formal," says Justin Lubecki, a farmer, educator and one of the core members of Ferment Pittsburgh. (City Paper covered one of his projects in our food podcast, Sound Bite.)
"Right now we [Lubecki and his brother Nick] have this very involved and specific farming project that's involved with saving and perpetuating [local] seed strains. We see their adaptation. Seeds we've gotten from this region are totally outperforming seeds from other areas," he says.
Lubecki wants to do the same with local cultures. He says that regional identity is a very important part of the project.
When he was first getting interested in fermentation, Lubecki's friend, David Asher, author of The Art of Natural Cheesemaking, was making kefir and inspired Lubecki to think of cultures as heritage.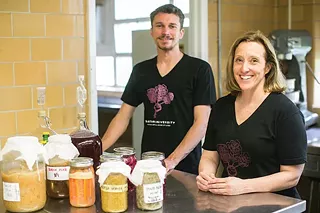 "I remember him introducing me to the history of it and saying, 'This is one thing that we don't have any idea of the origins of, how it was created and where it came from. We know more about the beginning of the universe than the beginning of kefir,'" says Lubecki. As a result, kefir has to be kept and passed on; to Lubecki and many others through history, the culture has taken on a sort of sacredness. "It's an important cultural relic," he says.
Ferment Pittsburgh asks that people who want cultures to exchange something that is representative of themselves whether that's a piece of art, a service or, most commonly, a favorite homemade dish.
"It never made sense to me to sell them. The way we've done this all along is through exchange and bartering. The point is never to deny anyone this thing because it's not ours to own. We care for it," says Lubecki.
Lubecki wants to harness the excitement and energy people feel about outside culinary experiences and going out to eat and transfer it back to the community level. "I want to take that inspiration and excitement and bring it home. It's better for sourcing and investing into local agriculture," says Lubecki.
He wants to help families start new traditions and hold onto old ones through food. "Why not go home, reawaken some of those traditions and feed your family? Invite your neighbors over," Lubecki says.
CRAFT is in the nascent stages of launching its own culture library at Chatham.
"The idea is an interdisciplinary project that uses oral history and microbiology to collect cultures and document the genetic and personal histories of them," says CRAFT project manager Cassandra Malis.
When collecting cultures from community members, CRAFT will collect any historical information including recipes and pictures and add them to its collection of oral histories.
"One of the things that projects like this do is maintain diversity. But to actually provide evidence that that's what they're doing, that's what I can do," says Sherie Edenborn, an associate professor of biology at Chatham.
By testing the incoming cultures, Edenborn plans to chart "family trees" that show the relationships between different strains of fungi. Pairing biology with oral histories can help give a fuller history of cultures and serve to legitimize their roots.
CRAFT's existing oral history projects seek to preserve the knowledge and the history that accompanies the food of this region and the culture library fits into this niche. CRAFT is also interested in preserving the diversity of cultures in foods, which is part of the reason testing is an important tenet of its future culture library.
Says Edenborn, "Biological diversity is hugely important because it builds stability in systems whether it's an epicurean thing or a need to maintain stable food sources."
Info: To find out what cultures are currently available, visit fermentpittsburgh.com