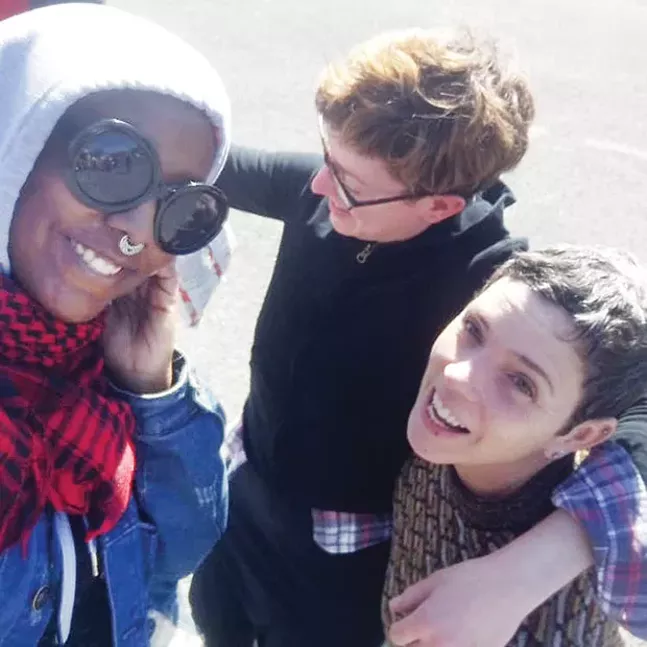 A "zine" is a foreshortening of magazine, and a cultural phenomenon of non-commercially published material that usually includes artwork, often devoted to specialized and unconventional subjects. Also see definition for rad.
Pittsburgh has been a hotbed for zine culture over the decades, stemming from its do-it-yourself culture and small artists communities. In 2011, the Pittsburgh Zine Fair made its debut and in 2015, the Feminist Zine Fest Pittsburgh (FZF) was born out of to focus on equality and social justice. Zine contributors mostly come from Pittsburgh, but some visit from Wilkes-Barre, New York, Saint Clairsville, Ohio and Falls Church, Va.
Three years later, organizers Jayla Patton, Anne Schwann and Jude Vachon are excited to keep the event available and welcoming to everyone.
How has the FZF grown over the last three years?

Jude Vachon: I wouldn't say it's grown in terms of having more feminist zinesters table, or that that's actually an important goal. I would say that for me, I've learned a lot from the experience each time and have a deeper connection to what we're all doing together — organizers, tablers, visitors — each time we do it. And that's really meaningful to me.
Anne Schwann: Each year we're seeing familiar faces, but lots of new ones, too. I really love when we get tablers who've never made a zine before FZF. We've also been exploring ways to connect with folks outside the zine community, like a teen girls group that's part of ARYSE PGH [Alliance for Refugee Youth Support and Education].
Jayla Patton: This is my second year assisting with organizing FZF. It's fun to see new faces and new zines coming out! The event itself is always changing due to the attendees and the artists changing.
Are there any trends you see in topic for this fest?
JV: Gender, women's bodies, Black identity and mental health.
What changes have been made?
JV: Well, we had [four] days of events the first time. But we also had a lot more people on the organizing team. We've pared it down some over time to have a smaller organizing team. It was super fun and energizing the first year with a film screening, a discussion and zine-making session, a dance party and the fest. It's also great to do things on a smaller, more focused scale.
Also, we had the first [FZF] event with tabling at Pitt. Last year and this year, it's at the Irma Freeman Center for Imagination. We decided we really prefer the community feel to an academic space.
AS: This year we're having a zine reading the night before FZF. We're really excited for the chance for tablers to connect and get to know each other's work prior to the fest.
What do you see as the power of zines?
JV: Zines are a way for anyone at all to express themselves without anyone's permission. This means pretty much regardless of financial status (they're cheap), regardless of the maker's race, gender, sexual identity, age. … Have you seen statistics on who gets published? Zines are one way that we can hear each other and be heard. This is radically powerful both for zine makers and zine readers.
AS: Yes! I think zines are a powerful way to say "hell no" to everything in our culture that says marginalized people shouldn't use their voices or be seen. Share your experiences, knowledge, silliness, rage … through this we empower each other to take up space.
How do people in this community support each other?
JV: Zine communities are generally supportive — people become friends, write to each other expressing thoughts and feelings about each other's zines, show up at zine fests and are reunited. … For me, feminist zine fests are even more connected and supportive. I experience even more appreciation and warmth at feminist zine fests and less focus on sales.
Has anyone seen particular success or significantly furthered personal projects because of the fest?
AS: Whenever someone hasn't made a zine ever before the fest, but makes one to table, I think that's really exciting.
JP: Some zine makers have only created one zine, while others have 20. Getting your thoughts out and onto paper and sharing it is pretty amazing, I think. The project can always be taken further, but that's up to the creator. Sometimes it's cathartic, sometimes it's chaotic, but it's always necessary.
How does collaboration foster zine culture?
JV: Comp zines, split zines or zines that are some other form of collaboration result in really interesting zines that are more than the sum of their parts.
AS: I think zines are conversations. You read something that really rings your bell, and you want to share: "I feel that way too!", or "holy shit, I've never thought about that before." And you can actually talk to the author. Collaboration can come out of that.
Do you think zine culture is inherently feminist?
JV: No. I think zine culture is inherently DIY and anti-establishment, but it can still be misogynist.
__
Feminist Zine Fest PGH. 12-5 p.m., Sun., June 24. Irma Freeman Center, 5006 Penn Ave., Garfield. feministzinepgh.tumblr.com