In the summer of 2012, the Walker Art Center, in Minneapolis, held the first Internet Cat Video Festival, screening a compilation of amusing cat videos pulled from the Web. Unsurprisingly, it was a huge success. Since then, the now-annual event has become a touring program, allowing audiences to share the antics of funny cats, irritable cats, acrobatic cats and cats that fall off things. The 2015 Internet Cat Video Festival is a 70-minute program featuring 85 cat videos. See them on the big screen, and in a crowd of fellow cat-video enthusiasts. (Costumes encouraged.) Here's a small selection of what you'll see.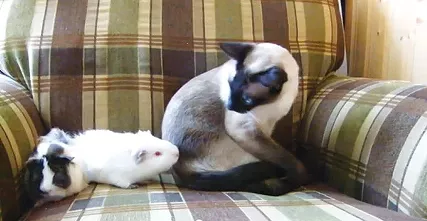 Expect to see such neo-classics as "Cat Pushes Dog Into Swimming Pool." Indeed, a number of videos feature cats getting along — or not getting along — with a variety of animals, including: parrots, other cats, guinea pigs and screensavers of fish.
Some folks just film their cat falling off the couch, and upload it. Others make an effort to add production values, as in "Purrkour: Didga the Parkour Cat," which edits together footage to highlight one athletic cat's skills at running, jumping and balancing. Or the supercut, "Cats vs. Bananas."
For parodying Euro art films, there is the popular Henri LeChatNoir, starring in "Reigning Cat, and Dog." But viewers will find the purest form of art cinema in "Cat Sitting in a Chair 2014 #2," in which, for two minutes, a large orange cat sits in a chair. Then another cat walks by. Discuss.
It's a cat. In a plaid shirt. Ringing a hotel-desk bell and receiving a treat. Again and again and again. It's hilarious: It's a cat in a plaid shirt ringing a bell.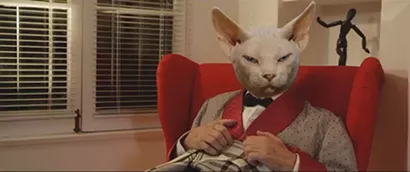 Also included in the program are several short films featuring cats in storylines. There's a charming animated one about a cat and Buddha, and another line-drawn short about how irritating cats can be. Plus, a freaky music video from Stereolizza about dating that puts cat heads onto various male archetypes.

Cats have a complicated relationship with objects. For instance, if a vase is on a coffee table, a cat will, without affect, simply push it off and watch it fall. But put an object — say a paper flower — on a cat, and it will completely freak out.