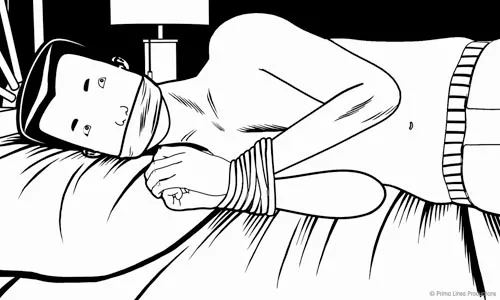 Fear(s) of the Dark is a French-produced, 85-minute compilation of six animated shorts. Fear is the common denominator in these films; so too is "dark." The filmmakers, an international group of graphic artists and cartoonists, work only in black and white, and as you can imagine, black and its dark grey cousins see more screen time than white.
Most of the stories exploit how fear can start from the merest of suggestion or odd event, and can grow to become overwhelming, literally trapping, consuming or irrevocably altering its victim.
In the first film, directed by Charles Burns, a bookish boy who enjoys collecting weird bug specimens grows up to be a college nerd (read: weird specimen). In this intriguing psycho-sexual riff on entrapment (with nods to Kafka), he is pursued and ensnared by a voracious female student-turned-bug. The style and tone is reminiscent of 1950s "strange tales" comic books.
The visuals in Richard McGuire's short were dramatic. I have never seen a blacker film. As a man spends an evening moving about an old house, only the tiniest bits of his existence are illuminated by his candle. Yet the level of detail, movement and atmosphere in just those teeny pockets of light on screen are remarkable.
None of the films are particularly scary, but the best of them are evocative or unsettling. For instance, Marie Caillou's short, set in the life of a Japanese schoolgirl, offers great nightmare-ish visuals wherein benign objects such as umbrellas and paper lanterns become fearsome demons.
My favorite in the batch was Lorenzo Mattotti's, in which the adult narrator recalls a summer spent in a country village where -- perhaps -- a swamp beast was responsible for the disappearance of some locals. Or, was his adolescent friend the culprit? Which is more frightening? The feeling of unease in this story remains unresolved.
These four complete narrative tales are linked by two other non-narrative shorts. In one, directed by Blutch, the charcoal sketch-like images depict an evilly grinning lord-of-the-manor type, propelled by leashed (hell-)hounds, who one by one, break away to commit violence.
Pierre DiSciullio's short -- in which a woman rattles off various navel-gazing social fears and the odd bit of ruminating -- seemed out of place. The recitation is matched with ever-evolving geometric patterns.
These were the least effective, in part because they're seen in snippets and they appeared to serve more as interstitial devices than stand-alone films.
As with most compilations, Fear(s) is a mixed bag, but there's enough visual treats in here to satisfy, if not horror fans, than surely animation aficionados. In French, with subtitles. Fri., Sat. Jan. 30 and Sat., Jan. 31.
Melwood