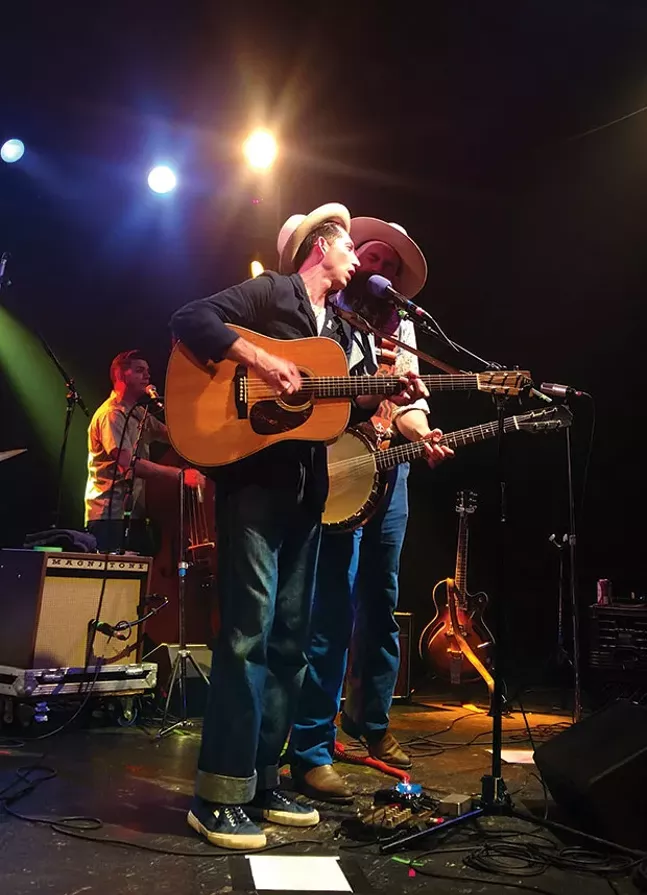 Whether it's witnessing your favorite artist for the first time, discovering a new band whose live show melts your brain or falling in love with a perfect moment in musical time, seeing live music can be an absolutely life-changing experience. Below, City Paper contributors and a few local musicians and promoters discuss some of this year's favorite concerts.
Charlie Deitch,
CP
editor
Pokey LaFarge, with the Hackensaw Boys, at the Rex Theater
Simply referring to St. Louis' Pokey LaFarge as a roots artist is underselling what he actually does on stage. His hard-charging music is a mix of big band, blues and Western swing. He draws hundreds of fans every time he hits town. This time, however, I wasn't quite sure what to expect after seeing a tweet from Pokey, sent about three hours before show time, saying that he contracted food poisoning the night before in that shithole Cleveland and he wasn't sure he could perform. The starting time was pushed a bit, but the show got off to a fast start with Charlottesville, Va.'s Hackensaw Boys. In my review of the show, I wrote that the band was a "three-piece featuring a lead guitar, fiddle and a dude who rocks the shit out of a homemade percussion kit made up of tin cans and a garbage-can lid." LaFarge hit the stage looking like a man who was about to throw up every few minutes. But once he launched into his hit, "Something in the Water," the show hit a high energy level that he sustained throughout the entire show, even though he took occasional breaks to puke in a trash can offstage. If the show was any indication what an under-the-weather Pokey LaFarge can do, you definitely don't want to miss him when he comes back around at full strength. It will likely be epic.
Eli Enis, CP contributor
T-Rextasy and Mannequin Pussy, at The Mr. Roboto Project
Philly's Mannequin Pussy and Brooklyn's T-Rextasy are each used to being the most animated and energetic band on the bill. So, it made for a particularly intense pairing when they played Mr. Roboto together over the summer. Instead of stepping over each other, though, they were unbelievably complementary. T-Rextasy was a pure joy to witness, as each member shamelessly thrashed about stage, chimed in for quadruple-threat harmonies, and smiled in ways that convinced me they were having the absolute time of their lives. Frontwoman Lyris Faron's theatrical command of the stage was both entertaining and empowering, particularly when she asked her bandmates to unleash their ever-clever comedic diatribes during the end of "Gap Yr Boiz."
Mannequin Pussy is a different type of intense. Watching frontwoman Marisa Dabice maintain her composure while she shrieked, howled and crooned through some of the most chaotically cleansing material I've ever heard — while her bandmates cranked along with the utmost precision — made for one of the most amazing performances I've ever witnessed. The band somehow managed to play its songs both faster and tighter than on recordings, without losing their signature air of messy catharsis. Mannequin Pussy is quite honestly the only band that could successfully follow up T-Rextasy, and T-Rextasy is the only band that could possibly precede Mannequin Pussy without being blown out of the water. The two should ... uh ... tour?
Holden Grimes, of Werefolk
Punk Talks benefit show, with Soda Club, Short Fictions, William Forrest, rchrd prkr
Punk Talks is such an important group, encouraging musicians to get mental-health help, if needed, and even providing therapy for touring musicians. This show was just what I needed to remind myself: "You don't need to be sad to make great music."

Liss Victory, singer/songwriter
Dori Cameron's EP-release show
Dori Cameron's release show for her debut EP highlights my 2017. I watched Dori progress from a woman searching for her first guitar on Craigslist and learning her first chords, to a full-fledged songwriter with her own show at the Mr. Smalls Funhouse. Nowadays, she performs in multiple countries with her vivacious vocals and heartfelt rhythms. There's no moment this year that can stack up to watching a fellow female musician realize their dreams on one of the premier stages of our city.

Eryn Oberst, concert promoter
Morning Dew, Quiet Monsters, Liteweight, Pittsburgh Stories, Anthony Heubel, SOFTGIRL, at Cafe Verona
Booking shows can be such a stressful and discouraging thing. But then there are those shows that remind you why you even try to do all this in the first place, and this was one of those. I felt so much love that night, and had the most fun I've had at a show in years.

Harrison Thurman of Lawn Care, AllegrA
A-F Fest (second night), at Roboto
A-F Fest at Roboto, including seeing Anti-Flag for the first time in probably a decade. They were my favorite band for much of middle school and high school, and it's awesome to me that they're still making great heart-on-sleeve political music. Seeing a sold-out crowd singing "Fuck Police Brutality" was surreal, and it felt like a time warp. At this set, Justin Sane revealed that "Your Daddy Was a Rich Man," which was written for the band's first album and released in 1996, was about Donald Trump. Also, it was so validating to have a band of that caliber, a world-class talent, play at Roboto again. For the last several years, Roboto has been in danger of shutting down, and this was a reminder that the work that the other volunteers and I put into the space is actually worth it!

Dhruva Krishna, concert promoter and musician
∙ James Street Final Friday: Eastend Mile, Starship Mantis, Beauty Slap


∙ Wreck Loose album-release show


∙ Crafted Sounds showcase, at James Street