"Well, it ain't Mahler." American composer Stewart Copeland is speaking over the phone from his home in California of his latest orchestral work, the Pittsburgh Symphony Orchestra-commissioned Tyrant's Crush.
A concerto for percussion and trap-set drums (i.e., drum kit or drum set), the piece features Copeland accompanying the orchestra on the latter at the world premiere, on Fri., Feb. 19, and then for a matinee performance, on Sun., Feb. 21, both at Heinz Hall.
"I think the Italian term is big-ass orchestra," Copeland says, clarifying the piece's instrumentation. "There are featured roles for percussion, and the tympani gets a few starring roles. So ... drums, three percussionists, featured harp and tympani." And one big-ass orchestra.
While the event of a composer performing his work with an orchestra is not so unusual, that composer being a drummer — a bona fide trap-set drummer — absolutely is. And while percussionists performing original works with percussion ensembles is not wholly unusual (see: Steve Reich. et al.), a composer accompanying a full-scale orchestra on a drum set is virtually unheard of.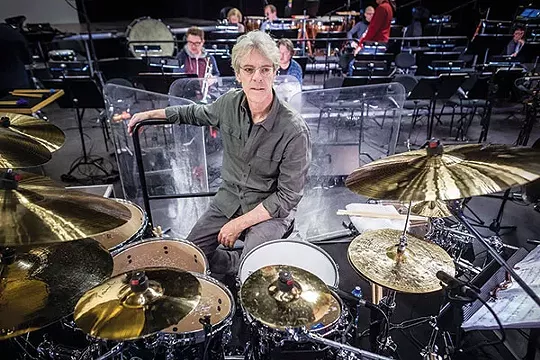 "Yes!" Copeland booms in half-facetious celebration. "We can agree, most definitively — this is a first, it is unique in the annals of music history! Love it." Despite his animated air of self-deprecation, this composer-as-drummer-accompanist configuration may indeed be a first — not in jazz or rock, but certainly in the largely buttoned-up world of classical and orchestral fare.
"The story," says Copeland of Crush's thematic narrative, "is the tyrant, his ascendance and fall." And the tyrant in question? "There are a few to choose from. There is kind of a template, I suppose. ... Basically the young intellectuals, the revolutionaries that take over everything, and once they're in the palace, they kind of get used to running things, and they like the brocade, and they like the life of running a country, but then it all goes wrong."
Copeland cites, in part, a piece he heard some years ago by Los Angeles radio performer Joe Frank as an early inspiration for Tyrant's Crush.
"He did this monologue, which was the inner musings of a dictator as it all falls apart. And I was completely captivated by that ... a person, a guy, with his stomachache, and the girl that he likes, but he's found himself in that [compromising] position, and how he deals with it. He's not good, he does bad stuff, but you're in his mind as he goes through this strange adventure. It doesn't end well."
As is often the case with compositions, Tyrant's Crush began life a couple different times before reaching its ultimate incarnation. The first movement, "Poltroons in Paradise," appeared in nascent form as a commission from the Royal Liverpool Philharmonic. "Then," says Copeland, "it was picked up by the Iceland Symphony Orchestra, who asked me to adapt it for their star harpist and lone percussionist. Then, in incorporating that movement into the larger piece for the Pittsburgh Symphony, which has me playing on drums, that was a further re-ordering and restructuring of the orchestration for that first movement. The next two movements, 'Monster Just Needed Love' and 'Over the Wall,' that's all written with that new configuration in mind."
Now fully formed, Tyrant's Crush will soon continue its life elsewhere. Following the premiere in Pittsburgh, Copeland will join conductor Marcelo Lehninger in a tour of the piece with Los Angeles-based New West Symphony Orchestra, of which Lehninger is musical director.
Copeland is still most widely recognized as the drummer for the enormously popular band, The Police. His career scoring films (now almost too many to count) began during his tenure in that band. Composing operas, ballets and other pieces for orchestra would follow.
As is evident with his energetic, textural drumming and singular, inventive songwriting style, Copeland has never seemed to be especially interested in toeing traditional lines in any musical realm.
"My dad was into big-band jazz, and my mom was into 20th-century composers. So, actually, the music raging around in my head was more Stravinsky and Ravel until the advent of Jimi Hendrix. And then it became raging guitar — surrounded by Stravinsky and orchestral colors."
Paired with Tyrant's Crush on the PSO program is a work well enough bursting with orchestral colors, Shostakovich's Symphony No. 1.
"It's an interesting choice," says Copeland of the Shostakovich piece. "He wrote it when he was 19, it has a real youthful vivacity. And he probably knew more at 19, living in the era that he did, about [instrumentation] than I do now, so I can only admire his technique. It's a lively piece. It's a good match."
"I've discovered that the orchestra can do all kinds of very cool stuff," continues Copeland. "What we're used to in the concert hall is Mahler, and the great works of all the classical composers. But there are still tricks that can be surprising from an orchestra. They can do things that aren't a part of where the current and recent composers for orchestra have been. Popular music, playing stadiums with 80,000 people raging at you, does change your perspective of what music is for. And if three guys with amplifiers can do it, 60 guys on the stage can light up a room and burn down the house, in my opinion. And that's my mission with the orchestra."