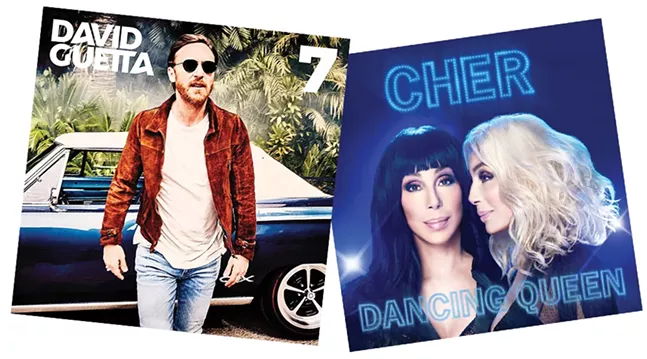 7 – David Guetta
Arguably one of the main reasons electronic music started to mix with pop is because of David Guetta. He's back with his first album since 2014 release, Listen. Guetta's seventh studio album, fittingly named 7, drops September 17. Back in August, Guetta teased the album by releasing the upcoming track list, and it's clear from featured artists that he is continuing his electronic-pop infusion. 7 includes collaborations with Bebe Rexha, G-Eazy, Justin Bieber, Nicki Minaj, Sia, and more. If you can't wait for this intoxicating album, a few of the songs were pre-released as singles.
Chris – Christine and The Queens

Crossing out the "-tine And The Queens," of the band's name, French musician Héloïse Letissier, or Chris, starts a new chapter with her second self-titled album, Chris, which premieres September 21. Following her 2014 debut, this gender-bending artist stated on Twitter that this latest album promises to be "sweaty," but in a good way.
Iridescence – BROCKHAMPTON

Three years ago, BROCKHAMPTON was just beginning to form, and even two years ago, the group of twentysomethings was still relatively unknown. Now, as 2018 hits its final stretch, this hip-hop boy band is set to release its fourth studio album sometime in September. After dropping three albums in 2017 (the Saturation Trilogy) and quickly amassing a vast fanbase, Iridescence is one of the most anticipated albums of the year.
Mirror Master – Young The Giant

With Young The Giant's album, Mirror Master, this alternative/indie rock band urges listeners to look in the mirror, take note of themselves, and realize that only they are masters of what comes next. Mirror Master drops October 12 and is the follow up to Young The Giant's 2016 album, Home of the Strange. These California natives already released two tracks from the album, "Superposition" and "Simplify." If those songs are a precursor for the entire album, then the upcoming album promises to be both trippy and meditative.
Dancing Queen – Cher

The Name of The Game in 2018 is ABBA. After appearing in Mamma Mia! Here We Go Again, Cher was reminded of how much she loves that Swedish pop group's music. So, she thought, "Why not do an album of their songs?" And so, on September 28, Cher will release Dancing Queen, a full album of ABBA hit covers. This will be Cher's first album since Closer to the Truth in 2013.
Tweet your playlists to Jordan Snowden @snowden_jordan.