If you like films based on real-life stories, you're in luck: Docudramas, bio-pics and historical re-enactments rule this fall.
A lesbian couple (Julianne Moore, Ellen Page) fight back against discriminatory benefits practices in Freeheld, and Tom Hardy plays both Kray twins, infamous 1960s London gangsters, in Legend; both open Oct. 2. On Oct. 16, Steven Spielberg and Tom Hanks team up to save an American U-2 pilot in the Cold War tale Bridge of Spies; also that day, Cate Blanchett and Robert Redford revisit the 2004 brouhaha surrounding Dan Rather and CBS News, in Truth. Michael Fassbender plays the tech giant in Steve Jobs (Oct. 19). Vote, ladies! The period drama Suffragette, starring Carey Mulligan and Meryl Streep, hits Oct. 23.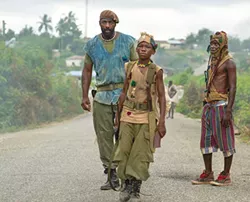 Spotlight shines on the Boston Globe's investigation of child sex-abuse allegations within the Catholic Church, and Bryan Cranston stars as Trumbo, the screenwriter who broke the Hollywood blacklist of the 1950s; both open Nov. 6. Antonia Banderas heads up an ensemble crew as one of the Chilean miners rescued in 2010; The 33 opens Nov. 13. Eddie Redmayne and Alicia Vikander star in The Danish Girl (Nov. 27), about the first person to undergo gender-reassignment surgery in the 1920s. Also Nov. 27, Tom Hiddleston takes on an American icon, country singer Hank Williams, in I Saw the Light.
They're lost: Chris Hemsworth plays a 19th-century sailor adrift in Ron Howard's In the Heart of the Sea (Dec. 11), and Leonardo DiCaprio plays a 19th-century fur-trapper and bear-attack victim in Alejandro Inarritu's The Revenant (Dec. 25). Also on Christmas: Will Smith plays then-Pittsburgh-based Dr. Bennett Omalu, who discovered that football players were suffering from degenerative brain disease; Concussion opens Dec. 25.
Fall is time for more serious dramas and thrillers. In The Martian, Matt Damon fends for himself on the red planet (Oct. 2). Beasts of No Nations explores child soldiers in Africa, and Guillermo De Toro delivers the gothic thriller Crimson Peak; both open Oct. 16. David Gordon Green tackles political strategists in Our Brand Is Crisis (Oct. 30), starring Sandra Bullock and Billy Bob Thornton.
Two domestic dramas: Angelina Jolie and Brad Pitt star as a married couple confronting tragedy, in By the Sea (Nov. 13); and Rooney Mara and Cate Blanchett star in Todd Haynes' 1950s-set simmer, Carol, about female desire (Nov. 20). On Dec. 25, Jennifer Lawrence re-teams with director David O. Russell for Joy, about a woman's transition from housewife to entrepreneur.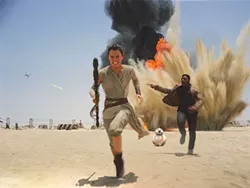 Remakes, Sequels and Such: Pan (Oct. 9) presents an origin story for the guy we know as Peter Pan; R.L. Stine's kid-horror books get adapted in Goosebumps (Oct. 16); and '80s poppers Jem and the Holograms are back Oct. 23. Agent 007 returns, and confronts a new villainous syndicate, in Spectre (Nov. 6). Julia Roberts and Chiwetel Ejiofor star in Secret in Their Eyes, a remake of the 2009 Argentine crime thriller, on Nov. 20. That same day, the rebels take the capital in The Hunger Games conclusion, Mockingjay: Part 2. Rocky (Sylvester Stallone) is back, and now he's coaching Apollo Creed's kid (Michael B. Jordan) in Creed (Nov. 25). The never-ending space opera continues, now with J.J. Abrams at the helm: Star Wars: The Force Awakens (Dec. 18). 1991's Point Break get re-imagined, now with more globe-hopping and bigger stunts; it opens Dec. 25
In Other News: For kids, Nov. 25 sees The Good Dinosaur, an animated feature from Pixar. For the holidays, two films about Christmas Eve get-togethers: Love the Coopers (Nov. 13) (shot in Pittsburgh) and The Night Before (Nov. 25). And for a more violent holiday, Quentin Tarantino re-works the Western in The Hateful Eight (Dec. 25).
The first of Pittsburgh's two long-running festivals to return is the 30th annual Pittsburgh International Lesbian and Gay Film Festival, now called Reel Q (www.reelQ.org); the fest runs Oct. 9-17. Soon after, the 34th annual Three Rivers Film Festival (www.3rff.com) kicks off. The Filmmakers affair runs from Nov. 6-15. As always, variety is key, with short features, documentaries, indies and international cinema.
The Hollywood continues its mix of new films, rep programming and special events. Upcoming this fall: The Decline of Western Civilization trilogy, with director Penelope Spheeris attending (Nov. 6-7), and the Internet Cat Video Festival (Nov. 13). At Row House Cinema in Lawrenceville, upcoming special screenings include the Back to the Future festival (Oct. 21-23) and the Pittsburgh premiere of Extraordinary Tales. At Harris Theater Oct. 19-29, Filmmakers presents the restored Apu Trilogy, Satyajit Ray's landmark of mid-century Indian cinema.