As you settle into fall's cooler clime, take heart that the fare at the megaplex is looking relatively substantial. Of course, fall is also festival time 'round these parts, and some local venues offer less-mainstream features. 
The first of the 'Burgh's two long-running festivals to return is the Pittsburgh International Lesbian and Gay Film Festival (www.plgfs.org), now in its 27th year. The fest runs Oct. 12-21, and will offer 17 full-length films. Opening night is Cloudburst, in which a trucker (Olympia Dukakis) breaks her longtime lover (Brenda Fricker) out of a Maine nursing home to get married in Nova Scotia. Also on the slate: an Iranian drama, Facing Mirrors, and a bio-pic about young James Dean.
On Oct. 5, Pittsburgh Filmmakers opens Bill W., a doc about the founder of Alcoholics Anonymous; Chicken With Plums, a drama adapted from Marjane Satrapi's graphic novel; and Headgames, a doc about traumatic sports injuries. Later in the month, it's How to Survive a Plague (Oct. 22), a doc about HIV/AIDS activist groups ACT UP and TAG. 
Soon after, the 31st annual Three Rivers Film Festival (www.3rff.com) kicks off. The Filmmakers affair runs Nov. 2-17, with screenings at the Harris, Regent Square and Melwood theaters. As always, variety is key, with short features, documentaries, indies and international cinema.
The Andy Warhol Museum (www.warhol.org) will screen more Unseen Treasures from the George Eastman House, including restored silent films Stage Struck (Oct. 12), with Gloria Swanson, and Beggars of Life (Nov. 2), with Louise Brooks.
The Oaks Theater in Oakmont (www.theoakstheater.com) is reprising its Moonlit Matinee Horror Film Festival, screening classic shriekers on Friday and Saturday nights throughout October, plus a slate of holiday films in December.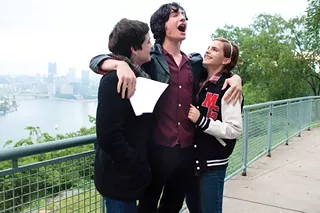 Speaking of local, Pittsburgh makes an appearance in three new films. On Sept. 28, catch Won't Back Down, an inspirational feature about two women (Maggie Gyllenhaal, Viola Davis) fighting against a lackluster school system, as well as The Perks of Being a Wallflower, starring Emma Watson. And the Tom Cruise actioner Jack Reacher, adapted from the Lee Child series, drops Dec. 21.
Returning for your pleasure are: the Liam Neeson pulper, Taken 2 (Oct. 5); Daniel Craig as James Bond, in Skyfall (Nov. 9); and sparkly vampires in the Twlight conclusion, Breaking Dawn, Part 2 (Nov. 16). Also getting "remade" is the 1980s Soviet-scare classic Red Dawn (Nov. 21), now featuring an invasion by the North Koreans.
There'll be entertaining creatures aplenty in two animated features, Hotel Transylvania (Sept. 28) and Tim Burton's Frankenweenie (Oct. 5). The other hotly anticipated animated comedy is Wreck-It Ralph (Nov. 2), about the travails of an arcade-game bad guy. And for fans of battling owls, the armored, talking raptors are back in Rise of the Guardians (Nov. 21).
Literary adaptations include Wuthering Heights (October) and Anna Karenina (November), plus Ang Lee's adaptation of Yan Martel's fanciful novel Life of Pi (Nov. 12), about a lad shipwrecked with animals. Two biggies hit Dec. 14: Les Miserables (by way of the stage musical) and the first part of Peter Jackson's The Hobbit trilogy, An Unexpected Journey.
In the international-adventures category is Argo (Oct. 12), a docu-dramedy that purports to show a secret mission during the Iranian revolution. Then on Dec. 19, the take-down of Osama Bin Laden gets the cinematic treatment in Kathryn Bigelow's Zero Dark Thirty.
For laughs, consider the Glee-ish Pitch Perfect (Oct.5), a comedy about an a capella singing contest. Fans of bad boys should get their money's worth with Seven Psychopaths (October), a dark comedy written and directed by Martin McDonagh and featuring Colin Farrell, Christopher Walken, Woody Harrelson and Sam Rockwell. And catch up with two of the characters from Knocked Up in This Is Forty (Dec. 21), written and directed by Judd Apatow.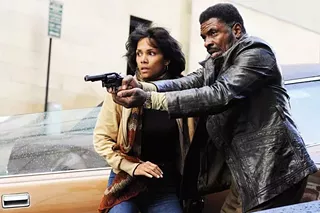 Mind-bending adventures include Rian Johsnon's Looper (Sept. 28), a sci-fi actioner about a time-traveling hit man (Joseph Gordon-Levitt), and Cloud Atlas (Oct. 26), a sci-fi-ish ensemble drama about actions rippling across time, directed by Tom Tykwer (with help from the Wachowskis).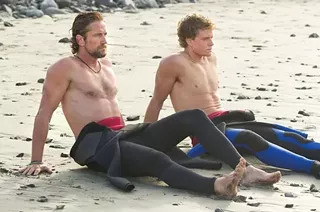 Closer to home, the surf's up for Chasing Mavericks (Oct. 26), a drama about the legendary Northern California surf break. In Flight (Nov. 2), Denzel Washington is an airline pilot who uncovers disturbing information about the plane. Two U.S. presidents get the bio-pic treatment: Daniel Day-Lewis stars as Honest Abe in Lincoln (Nov. 16), and Bill Murray is FDR in Hyde Park on Hudson (Dec. 7). Scientology founder L. Ron Hubbard may or may not be the inspiration for The Master (TBD), Paul Thomas Anderson's new drama starring Philip Seymour Hoffman as a spiritual leader. And finally, Quentin Tarantino's Django Unchained, about a slave turned bounty hunter, starring Jamie Foxx, opens Dec. 25.
Click here to return to the Fall Arts Preview main page