Old favorites and slew of bold new works highlight Pittsburgh's new dance season. Here's a sampling of what will be on stages through year's end: 
Move over Pinocchio, as CorningWorks presents a different kind of puppet experience in The Life & Death of Little Finn, an adult puppet dance-theater production continuing through Sept. 16 at the Children's Museum of Pittsburgh.
Also Sept. 14 and 15, the Kelly Strayhorn Theater opens its season with the world premiere of New York-based Camille A. Brown & Dancers' Mr. TOL E. RAncE, a biting commentary on African-American humor throughout history. On Sept. 28 and 29, the theater welcomes Japanese writer-director Toshiki Okada and his chelfitsch Theater Company in the dance-theater work Hot Pepper, Air Conditioner, and the Farewell Speech. KST's season continues Nov. 16 and 17 with the U.S. premiere of Luke Murphy's Drenched, and Dec. 14 and 15 with Philadelphia-based idiosynCrazy Productions' Private Places, inspired by the emotional plight of flight attendants.
Attack Theatre takes to the city streets Sept. 18-30 with its interactive performance series Some Assembly Required: Public, exploring public artworks through dance. And Nov. 29-Dec. 1, the troupe's annual salute to holiday madness, Holiday Unwrapped, returns.
Flamenco takes center stage Sept. 19 as the Guitar Society of Fine Art presents star flamenco dancer Nelida Tirado, along with gypsy singer Jesus Montoya and guitarist Ricardo Marlow, at Duquesne University's PNC Recital Hall.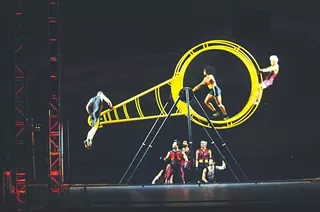 Pittsburgh Dance Council's new season begins with circus-style daredevils STREB in Forces (Sept. 28 and 29) at the Byham Theater. On Oct. 20, at the Byham, celebrated choreographer Akram Khan and company present Khan's poetic Vertical Road. And Sept. 28-Oct. 6, fledgling Continuum Dance Theater offers up a new perspective on dance in The Movement at The Space Upstairs.
Point Park University's Conservatory Dance Company opens its season with its Student Choreography Project (Oct. 5-7). Then the student troupe takes on works from some of today's most sought-after choreographers in Contemporary Choreographers (Nov. 16-18, Nov. 30-Dec. 2).  Both productions are at the university's George Rowland White Performance Studio. And on Dec. 7-16, the company revisits Doug Bentz's holiday favorite The Jazz Nutcracker, at the Pittsburgh Playhouse.
The August Wilson Center Dance Ensemble ushers in its season with two programs in the Center's offCENTER: Just Us Dance Series. On Oct. 11, the troupe presents Gospel Showcase, and on Nov. 1 it performs with local singer Vie Boheme. The ensemble then joins some of the nation's top African-American dance troupes in Black Dance Festival II (Nov. 1-3). 
The modern-day bohemians of The Pillow Project present a new version of choreographer Pearlann Porter's dazzling 2008 multimedia work Twenty Eighty-Four (Oct. 18-28). Meanwhile, the troupe's popular Second Saturdays series begins anew Nov. 10. All Pillow Project shows are at The Space Upstairs.
Pittsburgh Ballet Theatre kicks off its 43rd season with the ballet classic Giselle (with live orchestra), on Oct. 26-28. The PBT reprises its signature, locally themed The Nutcracker (Dec. 7-30). Both productions are at the Benedum Center.
On Nov. 1, Nego Gato Afro Brazilian Music and Dance performs at the Kelly-Strayhorn. On Nov. 3, at Pittsburgh Dance Center, local belly-dance mavens Janim and Mehira host Pittsburgh's premiere belly-dance competition, The Belly-Off 2012. In their 76th season, the Duquesne University Tamburitzans perform at the Hillman Center (Nov. 10) and at Mount Lebanon High School (Dec. 1).
On Nov. 17, at the Byham, Bodiography Contemporary Ballet presents the 11th edition of its annual program Multiplicity. Finally, on Nov. 25, the 2012 tour of TV's So You Think You Can Dance brings its all-star dancers to the Benedum.
Click here to return to the Fall Arts Preview main page