As Pittsburgh's reputation as a live-music town continues to revive, we see a number of musicians who haven't visited in years returning this fall. 
The last Pittsburgh appearance for Icelandic post-rockers Sigur Ros was a decade ago, at the Byham Theater. On Sept. 19, they come back, this time to Stage AE. Love-and-politics balladeer Billy Bragg was last here in 1997, when he was traveling about the U.S. working with Wilco on a new project called Mermaid Avenue. On Oct. 1, he makes his return, playing Mr. Small's. It's been a few years, too, since we've seen Rancid around these parts; the legendary Bay Area punks make it to Stage AE Sept. 13.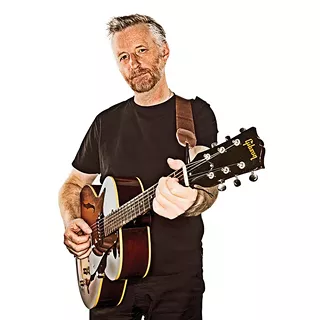 If you like your shows a little more intimate, a killer lineup at the Mr. Roboto Project on Sept. 27 includes Don Giovanni Records standouts Screaming Females, Waxahatchee and Tenement. 
For the hip-hop crowd, a few shows are on the radar for late September: At Altar Bar, Danny Brown appears Sept. 26; at Stage AE, Wale performs on Sept. 29.
Much of The Andy Warhol Museum's fall Sound Series programming takes place in September, though it continues through mid-November. Scout Niblett (Sept. 19), Angel Olsen (Sept. 24) and garage hero Kurt Vile (Sept. 25) all perform within a one-week span; Bill Callahan returns to town Oct. 9, Norwegian singer Jenny Hval makes her Pittsburgh debut Nov. 1, and poetic Baltimore synth-pop outfit Future Islands plays Nov. 15. (Kurt Vile and Bill Callahan's show both take place at Carnegie Museum venues in Oakland.)
In early October, we've come to expect falling leaves and VIA, the annual electronic-music-and-much-more festival. It spans several venues and runs Oct. 1-4, featuring everyone from Chicago rapper Chief Keef to garage-pop weirdos U.S. Girls and sometimes-Pittsburgh-based Wise Blood. 
Old heads, some of whom were aghast a couple of years ago when a cleaned-up Trent Reznor accepted an Oscar for his score for The Social Network, will appreciate the return of Nine Inch Nails, playing the Petersen Events Center at Pitt Oct. 8, with openers Explosions in the Sky. It's something of a homecoming for the Mercer-born, Allegheny College-educated Reznor.
Perpetual it-band Sleigh Bells comes back to Mr. Small's Oct. 4; those who enjoy ear-splittingness might also cotton to Broncho, the garage-rock sensations from Oklahoma, who play Brillobox Nov. 5.
On the lighter side, two of the gems of the singer-songwriter vein, Mary Chapin Carpenter and Shawn Colvin, are teaming up for a duo tour this fall; it lands at the Palace Theater in Greensburg Oct. 13. The younger set might be more interested in the Jonas Brothers, who play the Palace Oct. 26, proving that the window of opportunity for a boy band to sell out arenas is fleeting indeed.
The college kids always bring some interesting stuff — while Pitt and Carnegie Mellon both have their big music events in the spring, there are a few campus shows worth checking out this fall. On Oct. 25, Someone Still Loves You Boris Yeltsin, the Midwestern indie band with the name that won them a trip to Moscow, plays the William Pitt Union at Pitt; Oct. 26, Mt. Kimbie plays CMU. 
CocoRosie is back with a new album and appears Nov. 8 at Altar Bar; the following night, up-and-coming duo Pure Bathing Culture plays Club Café. And for a complete change of pace, also Nov. 9, Sweet Honey in the Rock, the ensemble that combines spirituals, gospel and more in a moving display of a cappella talent, plays the Byham Theater on its 40th anniversary tour.
It's a tale of two guitarists with the same first name on Nov. 12; mopers and Anglophiles will welcome former Smiths (and Modest Mouse, and more) guitarist Johnny Marr to Mr. Small's, while bluesy types will want to check out onetime wunderkind Jonny Lang at the Palace Theater.
November looks good for metalheads at Stage AE; on Nov. 20, Slayer appears, and Nov. 25, Lamb of God is back, giving plenty for you to thank Satan for before your Thanksgiving dinner the following week.
And we'd be remiss if we didn't mention the show that will highlight many people's fall concert calendars: Just in time for the holidays, arguably the most popular man in music, Justin Timberlake, headlines Consol Energy Center Dec. 14 on his 20/20 Experience World Tour.
Pittsburgh International Festival of Firsts | Film | Music | Visual Art | Dance | Stage | Literary