For decades, the producers of live performance have urged people to turn off their televisions, get off their couches, and get out to the theater. Yet thanks in large part to those who stayed on the couch and tuned into shows like Dancing With the Stars, the popularity of dance has skyrocketed.
Fortunately for Pittsburgh dancegoers, the 2007-08 season should be among the best in the Northeast. From a diverse array of international touring companies to local favorites, the new season has it all.
A sample of what's in store arrives quickly, with two notable shows this week alone. On Sat., Sept. 22, at the Byham Theater, The August Wilson Center for African American Arts presents Philadanco. Philadelphia's venerable, 34-year-old modern/contemporary-dance company brings a mix of moving and athletically intense works. The Sept. 22 program includes a restoration of Talley Beatty's reflective "Southern Landscape," set to African-American spirituals, and hip-hop guru Rennie Harris' politically charged "Philadelphia Experiment."
At the Byham the following night, Sun., Sept. 23, the rich heritage of Mexican folk dance will be on display courtesy of the Pittsburgh Cultural Trust (pgharts.org) as Ballet Folklórico de México presents its latest production, complete with live mariachi band. The program features several works based on Mexican folk tales, along with dances influenced by the Aztec and Michoacán cultures. Costume-driven and large on spectacle, a Ballet Folklórico production is a sure audience-pleaser.
click to enlarge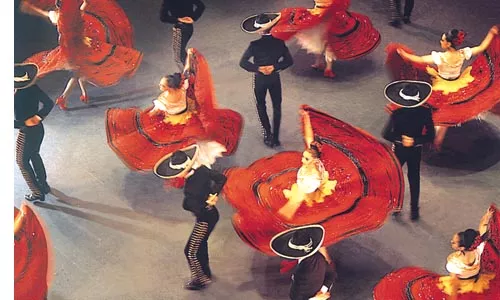 Rounding out September, the local innovators of Attack Theatre (attacktheatre.com) open their season with Someplace, not here (Sept. 28-Oct. 5). The site-specific work -- to be performed in a revived venue adjacent to Attack's studio, in Garfield -- will delve into the complexities of dating. Along with continuing its national tour of the Mad Max-ish Games of Steel, Attack will return to Pittsburgh for a new world premiere, Preserve and Pursue, in February.
From the land down under and elsewhere, the Pittsburgh Dance Council and the Cultural Trust (pgharts.org) have assembled another eclectic season of dance at the Byham, featuring some of the world's most intriguing contemporary companies. The Dance Council, the region's most daring and forward-thinking presenting organization, brings in another batch of companies rarely seen outside New York.
On Oct. 10-14, Circus Oz kicks off the Trust's Australia Festival with its unique and impish brand of circus-dance. Then -- after the high-flying folk dance of the Georgian State Dance Company, on Nov. 1-- the festival continues with Melbourne's Lucy Guerin Inc. (Nov. 3), in the U.S. premiere of its multimedia work Aether. Capping the Australian invasion, dance-theater mavericks Chunky Move take over on Nov. 15-16 with an intimate showing of Glow and, on Nov. 17, a performance of its multi-genre work I Want to Dance Better at Parties.
Among local companies, Maria Caruso's Bodiography Contemporary Ballet (bodiographycbc.com) enters its seventh season with a newly expanded roster of dancers, new works, and the news that longtime principal dancer Lauren Suflita will retire after this season. The company opens with Multiplicity (Nov. 3-4), at the Kelly-Strayhorn Theater. The annual program highlights works by Bodiography's company members along with an appearance by Pittsburgh belly-dance goddesses Zafira Dance Company (zafiradance.com). Bodiography returns to the Byham in April for Innovations 2008.
After a stretch of time off the radar, Mary Miller Dance Company (marymillerdanceco.org) is back with a new focus. Continuing its recent trend toward collaborative productions, the Miller Company offers "Together" (Nov. 16-17), featuring Philadelphia's SHARP Dance Company, at the Open Stage Theatre.
Meanwhile, at Pittsburgh Ballet Theatre (pbt.org), artistic director Terrence Orr says, "I think the company is the best I have had in my tenure here." Arguably, the company's dancer line-up lacks some of the star power it's had in the past; but in terms of depth and versatility, Orr is on target. With last season's addition of several top-notch veteran dance couples, PBT's roster is solid and tailor-made for its new season, which begins (with a live orchestra) at the Benedum Center and the classic Don Quixote (Oct. 26-28). On Dec. 14-29, the company performs Orr's Pittsburgh-themed The Nutcracker.
After last season's triumph with Donald Byrd's world premiere No Consolation, Dance Alloy Theater (dancealloy.org) begins its 32nd season with another Bang: a new work by New York's The Bang Group choreographer David Parker as part of ...A Different Drummer, Dec. 7-10, at the Kelly-Strayhorn Theater. The program also includes a re-working of Canadian choreographer Marina Harris' "Blue Quartet" and the "Pilobolus Duet."
Elsewhere, LABCO (labcodance.net) enters its 11th season with a Black Box Series production at the South Side's Breathe Yoga Studio on Oct. 27-28, featuring the works of local emerging choreographers. From Nov. 30-Dec. 3, at the New Hazlett Theater, New York choreographer and 2007 Princess Grace Award winner Pavel Zustiak creates a new work on the company based on pain and remembrance. The program also includes a new work by Jennifer Keller, and Gwen Hunter Ritchie's "La Femme en Flammes."
Speaking, as we were, of dance on TV: Exemplifying the high caliber of talent Point Park University's Playhouse Dance Company (pointpark.edu) offers each year, former PDC dancer Neil Haskell recently placed third on So You Think You Can Dance. Although Haskell told me, via telephone from California, that he will not be returning to Point Park, you can see him and the other SYTYCD stars from this year's show live when their 50-city tour visits Cleveland's Wolstein Center on Halloween night.
As for PDC's other budding stars, their season begins Oct. 5-7, at the Pittsburgh Playhouse, with The Student Choreography Project. That's followed by: Pittsburgh Connections (Nov. 16-18) and The Snow Queen (Dec. 7-9 and 14-16).