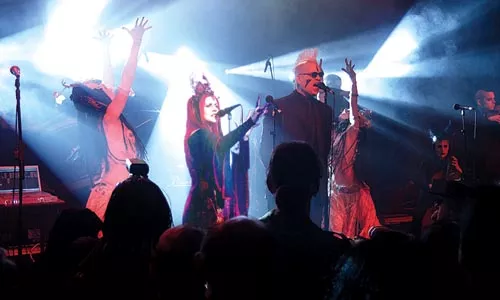 The spooky mall kids who hang out at the Hot Topic might know the most recent wave of goth acts, such as Birthday Massacre or Dresden Dolls, and may also recognize The Cure or Siouxsie from old YouTube videos. But ask them to name a seminal American goth band, and they're a blank generation.
This Monday at Fate Lounge, it's Lesson One in goth-culture appreciation, as the most enduring U.S. goth duo, Faith and the Muse, takes the stage with a nine-piece ensemble. The core of F&TM shall forever be guitarist William Faith and Monica Richards. Faith currently also plays with U.K. anarcho-punk legends Conflict, and his résumé stretches back to the mid-'80s with Christian Death, Wreckage, Shadow Project and Mephisto Walz; Richards originally hails from the Siouxsie-esque D.C. band Strange Boutique. The pair met in 1993 when Shadow Project and Strange Boutique shared a bill.
Originally, F&TM's aesthetic merged '80s dark-rock shimmer with atavistic rhythmic structures a la Dead Can Dance; their first two albums, Elyria and Annwyn, Beneath the Waves, drew heavily from Celtic mythology. Their breathtaking orchestralism was compatible with the soundtracks of, say, Excalibur or Lord of the Rings, and a perfect clarion call to the neo-goth revival taking place at that time. They also toured as an acoustic duo supporting the 2001 album Vera Causa (which included an amazing cover of Kate Bush's "Running Up That Hill"), analogous to what other goths, such as Voltaire, were doing.
But around the turn of the millennium, when goth-influenced mainstream bands like Evanescence were making their presence felt, Faith and Richards decided in their own estimation to "modernize" their sound and enter the world of straight-ahead heavy rock. The result was 2003's The Burning Season, their final effort for goth/industrial powerhouse label Metropolis, which wasn't all that well received.
Now on their own, the pair took a break of several years to devote themselves to environmental causes such as natural agriculture and animal rights. Last year's album, :ankoku butoh:, released on the Danse Macabre label, references Shinto religion, with the tracks ranging from death-rock and torch songs to tribalistic Taiko drumming.
These days, a F&TM concert summarizes two decades of dark artistry. There'll be big hair (although William has replaced his raven locks with a blond mohawk), elaborate costumes (the band's Web site, www.mercyground.com, shows Monica and cohorts dressed as fan-fluttering geishas), instrumental bombast and Chicago goth legend DJ Scary Lady Sarah on the decks. Prepare to be swept away into a mytho-historical realm.
Faith and the Muse with The Burning Path and Patricia Wake 8 p.m. Mon., April 26. Fate Lounge, 1650 Smallman St., Strip District. $15 ($18 at the door). 21 and over. 412-918-1753 or www.fatelounge.com