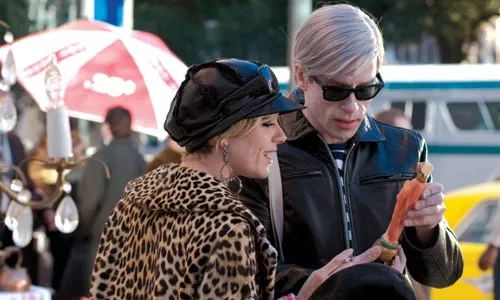 George Hickenlooper, the director of Factory Girl, is one of those people who's famous for knowing the famous.
He made Hearts of Darkness, about the filming of Apocalypse Now, and short films about Dennis Hopper, Monte Hellman (yes, the Monte Hellman) and Rodney Bingenheimer (ditto) -- all entries on a résumé of documentaries and dramas about fame or the Tinseltown fringe. It's no wonder that Hickenlooper found his way to the Factory and especially to Edie Sedgwick, one of Andy Warhol's little girls (and boys) lost and found, and then lost again.
The gang's all here in Factory Girl: Ondine, Nico, Gerard Malanga, Ingrid Superstar, Diana Vreeland, Chuck Wein, Lou Reed, John Cale and of course, Andy (Guy Pearce), creepy as ever. These ancient luminaries and their assorted fameless sycophants are played by Jimmy Fallon, Mena Suvari, Shawn Hatosy, Edward Herrmann, Illeana Douglas, James Naughton, Don Novello, Patrick Wilson, et al., with Hayden Christensen as the dreamy iconoclastic folk singer Billy Quinn, a fictionalized Dylan with a dry contempt for Warhol's detachment and exploitation. (The real thing, formerly too cool for words, is reportedly suing.) He draws Edie (Sienna Miller) away from Andy, which ignites a passive-aggressive revenge.
Say the name "Warhol" in Hollywood and pretty much everyone you can afford is willing to slum for a cameo. (Someone really should assemble a Films About Andy Warhol Festival.) Movies like Factory Girl are fun, but you have to know something about the milieu to get it all. If the people I've named don't sound familiar, then they must be in their 16th minute, and now they seem to exist somewhere in the miasma between reality and art. Edie was perhaps the most plaintive of the batch, and certainly Warhol's favorite until, in his eyes, she betrayed him with Dylan.
Her story in Factory Girl has a straightforward arc, and a familiar moral. She was born into an old-moneyed Santa Barbara family whose great-great ancestor signed the Declaration of Independence. Her domineering father tormented his gay son into suicide and began crawling into Edie's bed when she was 8. In 1964, she goes to the Cambridge Art School. But it bores her, so she lets a friend take her to New York, where she dreams of meeting Jackson Pollock.
Instead, she stumbles into the Factory, where she and Warhol become gal pals. (Mrs. Warhola loves her son's new girlfriend.) She makes movies, like Poor Little Rich Girl, and becomes a Warhol superstar and model, replete with all the requisite sex, drugs and lassitude. (You get the feeling Warhol and his acolytes make art as an excuse to lay around and do nothing.) A mere four years later, in 1968, after her tryst with the ersatz Dylan sends her into a spiral, she returns home to kick drugs. She dies there of an overdose in 1971, at the age of 28.
Hickenlooper's film employs a panoply of visual styles, but mostly he photographs Factory Girl like a conventional biopic about people who flouted convention at a time when doing so was almost conventional. Call it "Scenes from the Scene," or "A Stroll on the Wild Side": At 90 minutes long, it can't do much else.
But I must confess -- as Warhol literally does, by the way, in his first scene -- that I like this kind of movie, where recognizable and/or attractive actors play famous people in a lively pastiche of speculations about their lives. Captain Mauzner packs his crisp incisive script with smart observations by the three major characters about each other, but also about why they do what they do, and the roles they play in the increasingly frantic swirl of popular culture.
Christensen is much too pretty to stand in as Dylan, although as hard as he tries, he's never a distraction. Pearce, in one of those born-to-play performances, is eerily superb as the effusive (if mumbly) Warhol of the '60s, when he still believed in words -- or anything, for that matter. (His art, he says, "throws America back in its face and turns the assembly line into a punch line.")
Miller, too, is absorbingly dead on: bubbly, needy, pathetic, a mess. She's a beautiful young woman, but it's an undifferentiated beauty, so she might be able to morph herself into anything. And how good it is -- how perfectly ironic -- that she became famous for a moment when she made a movie here just last year and dissed Pittsburgh. It's almost as if a prescient Andy cast her from the grave and then told her what to say.