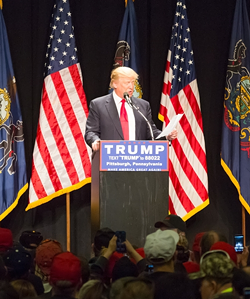 In this cutthroat political season, it's important to make sure that our candidates are giving us the straight story. So City Paper is working on fact-checking Donald Trump's Wednesday night speech. In this first installment we take a look at Trump's claims about former Penn State Coach Joe Paterno.
Trump's Thesis
: Joe Paterno is alive.
Popular opinion:
Joe Paterno is not alive.
Trump's Statement
: "How's Joe Paterno? Are we going to bring that back?" said Trump. "How about that whole deal." This obviously a huge concern for Trump who is a big fan of the coach and did at least know when Paterno was fired and was very upset.
Joe Paterno's family should sue the idiots @PennState that made that ridiculous deal--and commissioned the one sided report.

— Donald J. Trump (@realDonaldTrump) September 4, 2012
Investigation:
The rule of any seasoned fact checker is to go to the best sources. So, according to
Wikipedia
, Paterno, "sometimes referred to as 'JoePa' ... died of complications from lung cancer on January 22, 2012, only two months after his firing."
A quick search on "The Google" turned up this: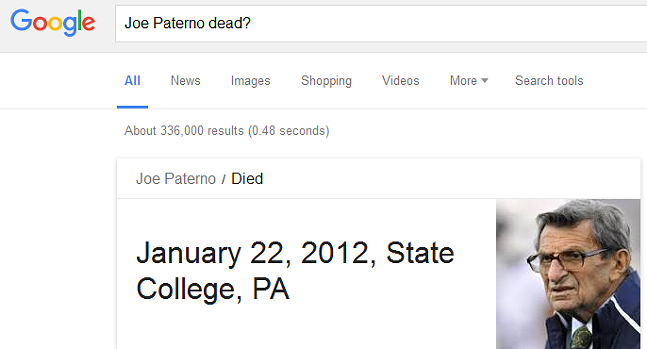 Also, the
New York Times
reported in 2012 that Paterno had died. And this search also debunked any rumors that Lynn Swann was still a Steelers wide receiver (upper left):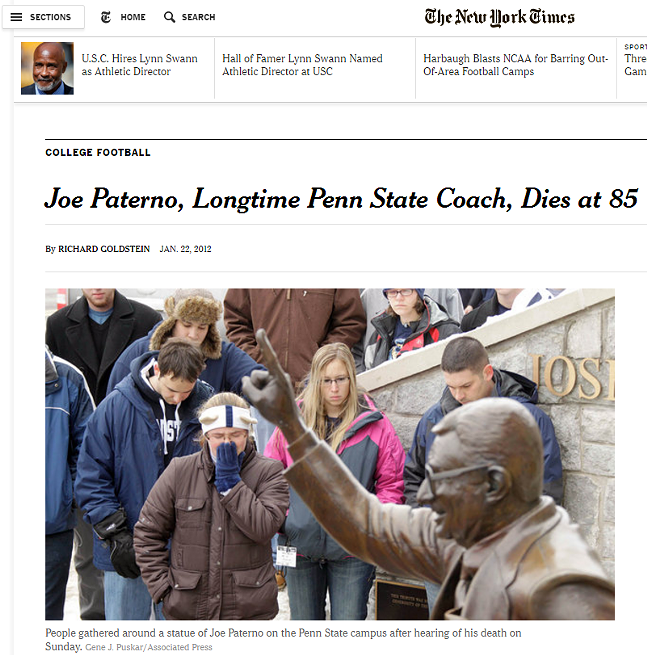 And finally, we uncovered this photographic evidence of Paterno wearing a halo. As we all know, Jesus doesn't hand these out to the living.
Conclusion:
After our extensive investigation,
City Paper
can only come to two conclusions:
1. Joe Paterno is definitely dead
2. Donald Trump is probably an idiot
Editor's Note: Trump's campaign says he was talking about the Paterno statue removal from school property. Check out Ashley Murray's video and decide for yourself.