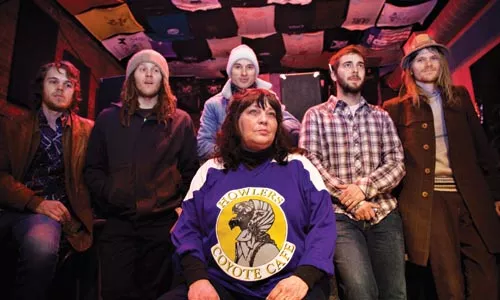 Last June 28 wasn't an especially noteworthy night at Howlers Coyote Café. It was the monthly Sunday Night Hayride -- a country show hosted by Howlers regulars The Beagle Brothers that typically features a guest band or two.
"The featured act was a band from West Virginia -- nobody really knew them," recalls Jo Albright, the Bloomfield club's booking manager. "They proceeded to do about two hours' worth of covers. And they did them badly."
Even worse, among the sparse crowd that night was an undercover representative of Broadcast Music, Inc. (BMI), a rights and licensing agency for songwriters. And although the music eventually stopped, for Albright and bar-owner Susan Coe, the headaches had just begun.
Later in the summer, BMI served Coe with a federal complaint alleging seven counts of copyright infringement. Among the songs the agent heard that night, seven apparently belonged to artists covered by BMI, who demanded the bar pay for the rights on that music.
That complaint was the culmination a seven-year dispute between BMI and the bar.
"Our history with this business goes back to 2002," says BMI spokesperson Jerry Bailey. BMI has been trying for that long to bring Howlers into a licensing agreement. "We called them 29 times, sent them 28 letters and had two of our employees visit the business on separate occasions."
"It was my fault for ignoring it," explains Coe. "I don't mind supporting the musicians [represented by BMI]." But the system for charging bars, she contends, is unfair.
Bars like Howlers don't have to log every cover song played on the premises: That would be too burdensome, Bailey says. So bar-owners are charged a flat rate based on a variety of factors, like the size of the club and the frequency of live music shows. The fee for Howlers is more than $1,500 a year.
"That revenue goes into [BMI's] general licensing fund," Bailey says. "And it's distributed according to other performance that the songwriters may have -- radio being the biggest factor.
"On the night we visited [Howlers], many of the artists that were covered also have had great success in radio," Bailey adds.
Thus, the fee Howlers must pay is not distributed according to how often BMI artists' music is actually played at the bar, but how often it is heard in other places.
Howlers has settled with BMI, but Coe and Albright still say the system is flawed.
"It's not calculated as a fee-per-play, like radio royalties -- going straight to the artists," Albright argues. "It's just going to line someone else's pockets."
The club also scoffs at BMI's methods for assessing its licensing fee. To Albright's amused chagrin, among the information bar-owners must supply on licensing forms is whether "dancing is permitted at any time."
"How do you define who's dancing?" Albright asks. "If someone's sitting at the bar bobbing their head, I have to pay a fee?"
Bailey waves aside that objection. Such questions are designed "to differentiate between a music club and a restaurant," he says. In any case, he adds, at Howlers, "Their awning says 'dancing' right on it."
He also denies that BMI is merely lining its own pockets. "After expenses, all the money goes to the songwriters who own the rights -- currently that's about 88 cents on the dollar. We're not a charity, [but] we operate more efficiently than many charities."
Coe says the bar never contemplated ceasing live-music shows: For one thing, Howlers recently renovated its stage area and purchased a new sound system. The $1,500 charge is "an astronomical fee," she adds. "It could shut some businesses down, though I don't think that's what BMI wants to do."
So how will Howlers pay for the right to cover other musicians' music? With a series of cover shows, of course.
Regular Howlers bands are lining up a series of benefit shows, each organized around the work of a different musician. Local acts like "the Harlan Twins, Lohio, Joe Melba and all of his bands, The Mon River Ramblers, they all stepped up immediately," Albright explains. "The Beagle Brothers, of course -- it was their show that got us into this mess," she adds with an impish grin.
The first show in the series will be held Sat., May 8. A tribute to Neil Young, it's cheekily titled "Rockin' in the Fee World."
According to a query of the agency's repertoire database, BMI represents 74 of Young's songs. "Rockin' in the Free World" isn't one of them; "The Rent Is Always Due" is.