Carnegie Mellon University's Face of Globalization International Film Festival continues this week. These recent films all highlight some personal aspect of our ever-shrinking world, with its effects on workers, resources and traditions. Most films will be accompanied by a discussion.
Tickets are $7 ($4 for students); a full-access festival pass is available for $40 ($20 for students). Films screen at Kelly-Strayhorn Theater (5941 Penn Ave., East Liberty); Future Tenant Gallery (819 Penn Ave., Downtown); A.J. Palumbo Hall (Fifth and Craft avenues, Oakland); and McConomy Auditorium (5000 Forbes Ave., CMU campus, Oakland).
For a complete schedule and ticket reservations, see www.cmu.edu/faces. The following is the schedule through Sun., April 11.
IN SERVICE: IRAQ TO PITTSBURGH. Ralph Vittucio's film essay explores the war in Iraq -- and its effects on the homefront -- from the perspectives of Western Pennsylvanians serving as soldiers, journalists and other participants. 7:15 p.m. Tue., April 6. McConomy
THE GARDEN. In 2004, development threatened to bulldoze a community garden that had bloomed after the 1992 riots in South Central Los Angeles. In his documentary, Scott Hamilton Kennedy relays the story of the poor gardeners fighting City Hall to retain their use of the land. The campesinos' campaign is the visible blossom we admire; more revealing -- and disheartening -- is the contaminated social, political and economic soil it takes root in. Kennedy's film is a clear-eyed look at the myriad challenges faced in many quests for social and economic justice. (Conversely, it's a heartening portrait of committed activists.) Today, the reclamation of disused land and urban gardening has never been trendier -- at least on paper. But The Garden is a sobering reminder that in the real world, such projects are not so easy to grow. Director Scott Hamilton Kennedy is scheduled to appear at both screenings. 7:15 p.m. Wed., April 7 (Kelly-Strayhorn) and 7:15 p.m. Thu., April 8 (A.J. Palumbo)
MALLS R US. Malls: Love them or hate them, our landscape is dotted with these once-miraculous modern agoras -- enclosed, climate-controlled shopping centers surrounded by acres of flat parking. Canadian filmmaker Helene Klodawsky casts a wide net over malls -- past, present and future, near and far -- and asks: What do malls really mean to us?
Among the more provocative arguments proffered is that malls have replaced churches as communal centers of worship as we surrender primarily to consumption rather than to any spiritual power. It's a cute idea, though the analogy seems contradicted by both the variety and social function of malls that Klodawsky presents.
Ostensibly, Klodawksy is opposed to malls for familiar reasons -- be they environmental concerns or nostalgia for what the mall replaces -- yet her film also seems in awe of fabulous new malls in Europe and the Middle East. The reported demise of malls in North America is represented by the team behind deadmalls.com, but curiously Klodawsky doesn't mention the next wave: big-box retail. "Malls" as a concept is so complex, comprising aesthetics, class, consumerism, advertising, shifts in population, land use, etc., etc., that 78 minutes hardly seems enough time to unpack these issues. And to think, malls once promised to simplify our relationship with shopping. In English, and various languages, with subtitles. 6 p.m. Thu., April 8. McConomy
PASEO. In this spare Chilean feature from Sergio Castro San-Martín, a single mother travels with her son from the busy city to the country to visit her former husband. Her journey reverses, and reflects on, the contemporary shifts from rural to urban. In Spanish, with subtitles. 8 p.m. Thu., April 8. McConomy
THE INHERITORS. Eugenio Polgovsky's documentary depicts the lives of Mexican child laborers in a poor, rural region. In Spanish, with subtitles. 6 p.m. Fri., April 9. McConomy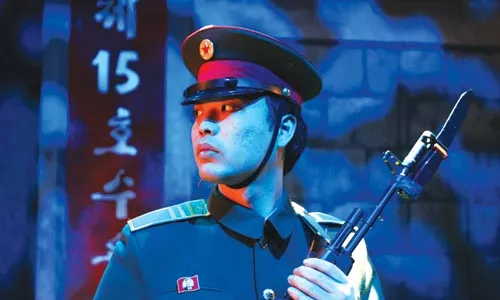 YODOK STORIES. In Andrzej Fidyk's documentary, a former prisoner in North Korea's labor camps, now living in South Korea, chooses a novel medium to tell his story and that of untold numbers of wrongfully imprisoned. He decides to write a musical about what really happens to "the enemies of the state," drawing from his experiences and other North Koreans now living in Seoul. The first-person accounts are harrowing; the incorporated staged musical numbers are surreally colorful and upbeat. It's an odd, yet often interesting mix -- and undoubtedly a cathartic one for the participants -- but it's never really clear what becomes of this musical once it's put together. In Korean, with subtitles. 8 p.m. Fri., April 9. McConomy
Z32. In Avi Mograbi's documentary (with musical interludes), an Israeli soldier, whose identity is hidden, recounts how he killed Palestinians during a military raid. In Hebrew, with subtitles. 7:15 p.m. Sat., April 10. McConomy
COMPETITIVE SHORTS PROGRAM. For the festival, students from the around the world were invited to produce short films related to issues of globalization. The work of the finalists screens tonight. 7:15 p.m. Sun., April 11. Future Tenant