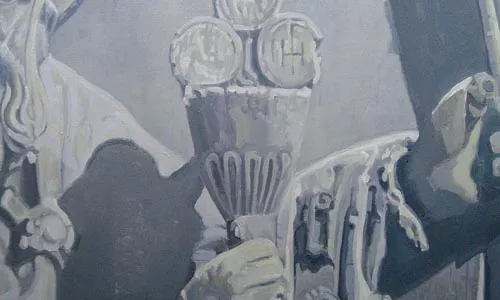 Fabrizio Gerbino's Tria Prima is an opportunity, rare in Pittsburgh, to witness a veteran painter commanding a full gallery space with a specific and cohesive body of work.
The show's title refers to the alchemist's belief that any metal could be created from three primary elements: mercury, sulfur and salt. These materials describe well the color territory Gerbino mines with virtuosic focus over the course of 23 oil, acrylic and mixed-media paintings at 5151 Penn. A comprehensive array of hues emerges from a primordial soup of slate gray: From this muted backbone, present in every work, Gerbino fleshes out dense daylight and rippling shadows, articulating landscapes and objects with surprising fullness. Blues, greens, yellows and pinks quietly propagate, speaking up only through repeated interrogation of his patchwork surfaces of strokes.
In the show's standout installation, "The Portal," an array of paintings scatter across a wall like a sparse salon, cropping details from an Italian church portal scorched by fire. Gerbino's compositional framing is impartial and wide-eyed, focusing on dramatic sculpted icons and modest trimming with equal fascination. It is a testament to the persistence of Gerbino's aesthetic that this religious landscape remains as agnostic and mysterious as the haunting renderings of abandoned zoo cages that hang nearby.
Gerbino is equally eloquent with a series of blunt observations (both painted and sculpted) based on simple and ambiguous found objects. "Untitled II" is a modest painting of two metallic hemispheres resting on a satin-black field. An atmospheric and complex image emerges out of the most basic of subjects, making good on the ambitious goal proposed in the exhibition's title.
Gerbino's vision is complex but clear, propelling him ahead of the talented pack of emerging painters that populate the city. Only experience can bear the range of ability, interest and technique that he manages to nestle comfortably within the focused context.
Credit is due to curator Alexi Morrissey, who aided in the daunting task of selecting from the painter's massive catalogue of recent work. 5151's tiered display space segments the show and allows for a variety of approaches to installation. In a bold curatorial move, one of Gerbino's maddeningly detailed miniaturas receives its own precious room and dramatic spotlight. Executed in needle-tip-sized watercolor dots, the Renaissance replica reads like an asterisk to Gerbino's artistic narrative, a reference to the confining art marketplace in his native Florence, where just a few years ago he struggled to stabilize his practice amidst the seismic presence of Italian art history. His wife, Cynthia Lutz, encouraged the move to her native Western PA, where Gerbino has discovered, by comparison, an art-historical void -- and within it, the room to breathe as a contemporary painter.
In person, speaking in his fractured fusion of English and Italian, Gerbino insistently relies on the term tentativo to describe his work. The word represents a concept in Italian that doesn't translate easily; he seems unsatisfied with simply substituting "tentative." An Italian dictionary turns up an array of terms to approach a translation: effort, trial, experiment, strain, endeavor. All of these, in combination, seem to frame both Gerbino's process and its compelling results. When the tentativo slips from his grasp, the work falters, reading as either too deliberate or insufficiently concerned.
In "Prima Materia IV," cascading stones are rendered with a heavier hand, losing the lyrical impermanence that characterizes an adjacent painting of the same subject. By contrast, the strokes that describe "The Passage" render a hillside entryway with hurried ambivalence, and the resulting painting fails to transcend the monotony of its marks.
Mostly, however, Tria Prima confidently immerses its audience in the gray area between image and surface, solidifying the fluid space between observation and recognition. Appreciation for Gerbino's work rests on whether one can digest his laborious dedication to an artistic process so religiously devoted to the existential. He purposefully skirts symbolism as a distraction; his painting is an awareness practice and an end in itself. A true alchemist in this sense, Gerbino's vision emerges esoteric and elusive; the onus is on the viewer to determine, painting by painting, whether his conflation of elements is a precious stone or just fool's gold.
Tria Prima continues through Dec. 31. Closing reception 7-11 p.m. Fri., Dec. 29. 5151 Penn, 5151 Penn Ave., Garfield. 412-661-9296 or 5151penn.com