During the XTERRA Japan Championship — a 30-kilometer trail run through the ancient mountains of samurai country — Richard Burgunder ran up two volcanoes, climbed nearly 10,000 feet and drank water of out of mountain springs. He ran trails so tight and narrow "that one slip and you were done."
While competing in the trail-run world championships at Kualoa Ranch in Hawaii, he ran through tropical valleys and vistas, then to the top of a mountain that overlooked the vast Pacific Ocean.
"It brings you to a standstill," says the 32-year-old Shadyside resident, an ambassador for XTERRA, one of the country's largest producers of trail and off-road triathlon races. "You don't even know you're racing."
Such is the draw of events like trail runs, adventure races, obstacle courses, mud runs and every other event that doesn't really fall into the category of the typical road or cycle race. Even though Burgunder competes overseas and across the country in XTERRA-sponsored events, there are several events closer to home as the Pittsburgh region develops its own vibrant adventure-racing scene. 
"With the economic downturn, a lot of people tend to cancel their gym memberships and decide they want to continue to stay active so they'll bike, hike, kayak or do these races," says Steve Tanzilli, director of the Sport, Arts and Entertainment Management Program at Point Park University. "It's a great way to experience a different part of Pittsburgh."
Race directors are trying to tap into that niche.
"Despite the economy, despite the unemployment, people are more willing to spend their money on experiences than materials," says Derrick Smith, co-creator of Run for Your Lives, a zombie-ridden 5K race. "People want more for their money."
Indeed, the city and its environs have plenty to offer those who want to do more than pound out 26.2 miles on concrete in a typical marathon. The Rachel Carson Trail Challenge later this month offers a 34-mile-long, one-day endurance hike (along with shorter distances) on the Allegheny County trail. The Mud on the Mountain race offers a muddy obstacle course in the Laurel Highlands. The Marshall Mangler trail race takes place in the fall, in North Park.
And the area is attracting even more events for the adventurous spirit. The Run for Your Lives 5K, an obstacle course which runners have to complete while being chased by zombies who are after their flag belts, will debut here in the fall; the Tough Mudder, a 10- to 12-mile obstacle course whose website touts it as involving "mud, fire, ice-water and 10,000 volts of electricity," is scheduled for 2013.
"The people who gravitate to these events are people who are the all-around athlete. You don't have to be a fast or superstar 5K runner," says Burgunder. "It's about mental capacity, being an agile athlete and how much pain you can take. An adventurous spirit can really take you a long way."
That's not to say such adventure or trail races aren't physically grueling. XTERRA trail races require training and technical preparation, and the distances vary from 5 kilometers to 42 km. Burgunder, for example, races at the elite level and has won several series, but he notes that the trail-racing divisions aren't as rigid as in traditional road racing. "There's much more blending and much more integration" among the racers and their varying abilities.
For racers, the challenge is often the main attraction.
For marathoner Shelley Muto, last summer's Ruckus Pittsburgh — an event in which racers run, climb and crawl through four miles worth of military-style obstacles — was harder than some distance-running races she's participated in.
"When you run a long time, you get in a zone and you hit that cruise control," says Muto. "With Ruckus, once you get into a rhythm you hit an obstacle."
The races also maintain accessibility. At the Run for Your Lives races, Smith notes, "We get a lot of people who normally wouldn't run 5K events if zombies weren't involved." At Ruckus, the only requirement is that participants try the obstacles. At XTERRA events, anyone can register for the races and even the championships, rather than other races where competitors must qualify. 
At Garfield-based Grass Roots Racing events, in addition to having seasoned multisport or adventure racers participate, weekend warriors are welcome too. 
"We get a great cross-section of people — a lot of people pushing to get in shape, people starting off slow," says Grass Roots owner Frank Eyth. "We are trying to develop a community."
In the Grass Roots events, participants navigate courses laid out over Pittsburgh-area state parks, using a map, compass and topographical information, while trail-running, mountain-biking, kayaking or rope-climbing.
"We get a lot of racers who learn during the race," Eyth says. "That what we love — getting racers into the wilderness, getting them out of their comfort zone. They go out with a map and compass and have to find their own trail."
Participants have to reach "check-ins" in the terrain, each worth various point totals, and visit as few or as many as they want before making it to the finish line within the three-hour deadline. Participants rank based on their point totals. There are four races in the series that began in April, in Point State Park, and finish in October, with the Laurel Highlands Adventure Challenge — and each course varies.
"There's no real format, there's no secret recipe as to what's in the course," Eyth says. "That's the point."
And adventure races aren't limited to those who run or hike. The Hilly Billy Roubaix bike race in Morganton, W.Va., promises to take  riders through road conditions that "may include missing bridges, car-sized potholes, gravel mud, black top, cow paths and maybe a piece of road kill or two." Last year, the lead motorcycle of the race got stuck in a pothole.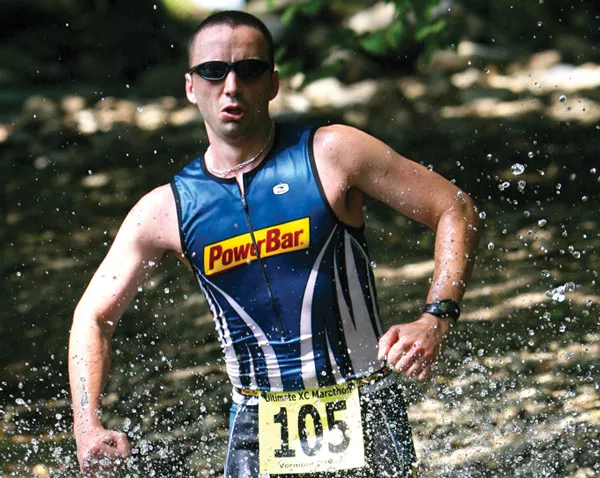 "It's supposed to be mean," says J.R. Petsko, with the Appalachian Bicycle Racing Association, which produces the race. "We just want to take people on the worst roads we could possibly find. That's why it's so popular. And it's a cross-section of super-roadie people and mountain bikers. There are few events out there where both kinds show up."
The events typically don't end at the finish line, either; most offer a post-race festival complete with libations, music and other festivities. 
Cross the finish line at a Warrior Dash, for example, and get a Viking helmet. At the Pittsburgh Oyster Urban Adventure Race, participants received a cowbell, burrito and beer tickets. Finish the Hilly Billy Roubaix? You get a Mason jar with the race logo that you get to fill up at the keg.
Which sums up what adventure and trail races are all about. "It's that 'Hey, have a beer; we're not going to take ourselves too seriously' mentality," says Tanzilli, of Point Park. "It's for camaraderie. No one is out for blood at these things."
Except maybe the zombies.