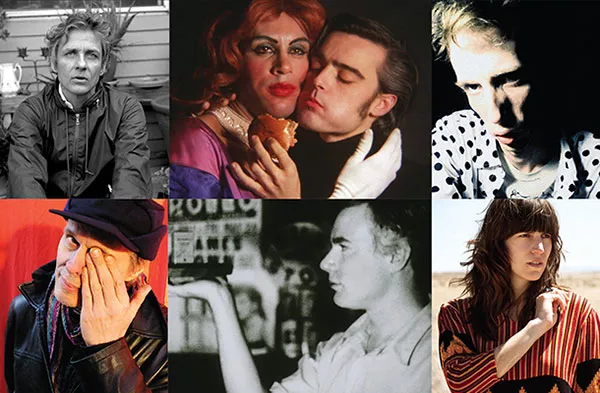 Six years ago, Dean Wareham spent some quality time here in Pittsburgh: The Andy Warhol Museum, under the umbrella of the Pittsburgh International Festival of Firsts, commissioned Wareham and his wife and bandmate Britta Phillips to write a series of songs to accompany some of Andy Warhol's "screen test" films. Since then, he's toured that show (called 13 Most Beautiful) over 80 dates on multiple continents, done a tour playing the music of his old band Galaxie 500 and released his first-ever solo album. But something brought him back to Warhol.
"I think we realized together that there was more to explore," says Ben Harrison, curator of performing arts at the Warhol. "But in talking to them, I don't think they wanted to do 13 Most Beautiful Part Two."
"I wasn't that excited about that; I felt like that would just be repeating itself," says Wareham. "There are 500 screen tests; we could easily come up with 13 more of them. So we were tossing it back and forth awhile — then the museum discovered all these films no one had seen before."
The films are early Warhol works: only a few minutes apiece, like the screen tests, but unlike those films, not all just portraits. They were uncovered and digitized as part of a larger digitization effort. On Fri., Oct. 17, 15 of those films will make their public debut as part of Exposed: Songs for Unseen Warhol Films, a live-music program curated by Wareham. It's a joint program of the Warhol Museum, the Brooklyn Academy of Music and UCLA's Center for the Art of Performance, and performances will take place in Brooklyn and Los Angeles as well.
While 13 Most Beautiful was a project of Dean and Britta, for Exposed, Wareham has brought in reinforcements. He and four other artists will each score three films apiece. (Phillips, Wareham says, has been working on a solo album, and the two have also been working together on scoring a Noah Baumbach film.)
Tom Verlaine of Television, Martin Rev of Suicide, Eleanor Friedberger of The Fiery Furnaces and Bradford Cox of Deerhunter are all contributing work to the program, and will play live at the premiere event, at the Carnegie Music Hall.
"Dean is a commissioned artist for this project, but also guest curator," explains Harrison. "I suggested he come up with maybe four other writers and composers he's been inspired by, that he has an affinity to, that could come onto this project.
"The very first four people he thought of, right off the top, said yes."
"I picked people I would want to see," says Wareham. "I guess it was kind of selfish. I grew up on Television and Suicide, so I wanted to get Tom Verlaine and Martin Rev involved, and they both said yes very quickly. ... Eleanor Friedberger, I'd seen in concert a few times recently, and she's a great performer. Bradford Cox, I'm a fan of Deerhunter and Atlas Sound, and I've seen him perform solo."
Besides 13 Most Beautiful, Wareham and Phillips have done film-scoring work in the past, including for Baumbach's The Squid and the Whale. "People ask if I enjoy doing film-scoring, which Britta and I have done," Wareham says. "I always say, 'It's fun when the film is good!' When you get to work with a great director, even though this director happens to be dead ..."
The films themselves have similarities to the screen-test films from the previous project, but present different challenges.
"They were filmed around the same time, from '63 through '66," says Harrison. "So we refer to them as early Warhol film, much like the screen tests. They are different in that they're not part of a serial project. The screen tests are this conceptual series; you shoot them all the same way. These [newly discovered films] are highly kinetic, some of them; there's a lot of movement in them. We're been referring to most of them as home movies: You get these casual, personal, what Geralyn [Huxley], our film curator, calls 'actualities.'"
"A couple of them are screen tests — there's a Donovan screen test," says Wareham. "And there's an Edie Sedgwick screen test, which is in color; that's exciting. The other screen tests were all black-and-white, so seeing this in color, it's an eye-opener.
"There's one very early one of Warhol himself with Taylor Mead, doing a little pantomime at Warhol's apartment; that's from 1963. There's a film of Jack Kerouac and Allen Ginsberg and other Beat poets sitting around the Factory, which is really unexpected."
"What you can tell is that he was experimenting with his 16mm Bolex camera, probably the same camera he shot the screen tests [with]," says Harrison. "They're not edited; much like most of Warhol's films, they're just a reel of Bolex film, put it in a camera, and run it to the end. They're a similar length to the screen tests; most, like the screen tests, are projected in slow motion. So, in real time, it would've been two-and-a-half minutes to shoot the films; [most] run about four minutes."
"A lot of people back then, and probably people now, were like, 'Warhol didn't know how to make films,'" says Wareham. "Well, maybe so, but when you look at them now, they're pretty interesting. Yeah, maybe it's just people looking at the cameras — but he did it, and he did it 500 times, and that's what makes it fascinating."