Oakmont
A shopping day in Oakmont must begin at Oakmont Bakery for carbs and coffee. The bakery consistently wins Pittsburgh City Paper's "Best of Pittsburgh." After a snack, head over to Mystery Lovers Bookshop for the best selection of thrillers and suspense novels, as well as a good collection of non-fiction and general-interest books.

Sewickley
The small town on the edge of Allegheny County has a booming business district. Restaurants, bars, and shops dot most corners of Beaver Street and beyond. The town even has a brand-new, two-screen movie theater, Tull Family Theaters. Penguin Bookshop is a perennial favorite and often hosts local authors (Pittsburgh Dad stopped by once and the town went nuts). Sewickley Yarns is the perfect place to get that hard-to-find-thread for the knitter in your family. And for the family's resident geek (this is a term of endearment now), Big Bang Comics & Collectables offers the latest editions of Marvel, DC, and Image comics, and a plethora of action figures and toys. Sewickley also has a dog bakery for gifts for the pooches, and Orr's Jewelry has the finest metals for that really special gift.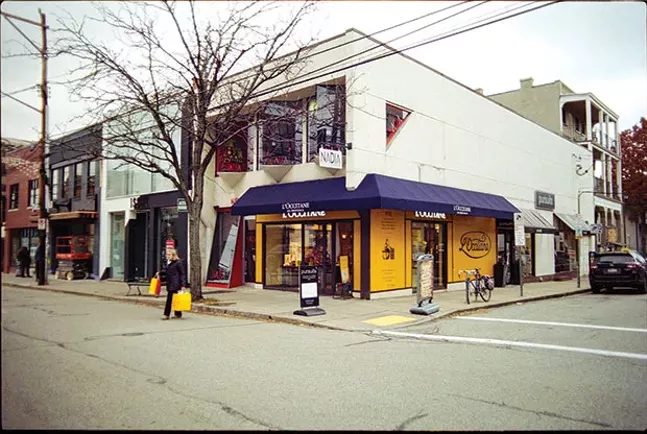 Shadyside
In Pittsburgh, before there was Butler Street in Lawrenceville, there was trendy Walnut Street in Shadyside. The few blocks near the west side of the neighborhood have been such a popular shopping district for so long, that big businesses, like Apple, have moved in. But try to avoid the big boys (they hardly need your money) and patronize some of the longstanding small businesses that make the neighborhood great. Kards Unlimited has all the best tchotchkes and humorous gifts to give your friends and family laughs over the holidays. For gifts for a sweet-tooth, check out eureka! chocolates and gifts where the chocolates look like works of art. And then invest in some quality leather products at Roberta Weissburg Leathers. Cap off the day with a beer and some pub grub at Cappy's, the favored hangout of Pittsburgh Mayor Bill Peduto.