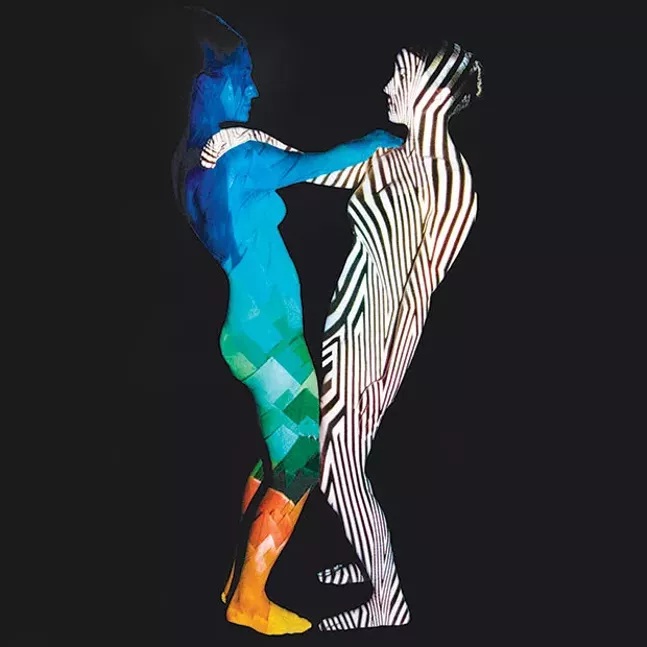 Inventor and author R. Buckminster Fuller once said, "Humanity is acquiring all the right technology for all the wrong reasons." Whether you believe that, or think technology is humanity's savior, or its eventual executioner, or something else, that debate continues to inspire artists' works worldwide. Exhalations Dance Theatre weighs in on that topic in its latest production, Kinetic Emotion, Feb. 17 and 18 at the Kelly-Strayhorn Theater.
"Technology is something very relatable and impacts our lives every day," says EDT artistic director Lea Kasic. "We wanted to do something with this program that not only explored the topic, but also allowed us to use technology to do so."
The 90-minute multimedia production includes recorded dialogue, video and 3-D projection mapping. It consists of six new 15-minute group dance works by six of the company's resident choreographers, beginning with Kasic's contemporary dance work "Currents."
Set to music by Los Angeles band Son Lux, the work, says Kasic, was inspired by "the façade that is projected through our social-media-conscious society today," and our struggle to balance sharing our lives with others, while still maintaining some level of privacy.
Next, Ebony Cunningham's "To Be Everywhere Is to Be Nowhere," set to music by DeVotchKa, Scanner and Drehz, also focuses on social media, but more specifically, on how it desensitizes real-world relationships in favor of virtual ones.

In Lacey Gibasiewicz's "Un-Plugged," dancers use ropes to symbolize the constant connection we have to technology, while Alyssa Mcintyre's "Everybody Say" turns its attention to the history of photography, from early flash photography to cell-phone selfies.
Broken up into two sections, Nicole Monville's "glitch:dis:connected" looks at technology's dehumanizing and humanizing sides. In it, Monville incorporates a black-and-white palette for the work's opening section, and then uses 3-D mapping of colors onto the dancers' costumes for its closing section.
Rounding out the program will be EDT founder/executive director Katherine Mann's "Consume," danced to music by YouTube sensation, violinist/dancer Lindsey Stirling. As the work's title suggests, the piece is about media consumption, how it is used as an escape and how it can also warp one's sense of reality. The work also incorporates 3-D projection mapping onto two large boxes and a TV screen to drive home the very message it warns of.