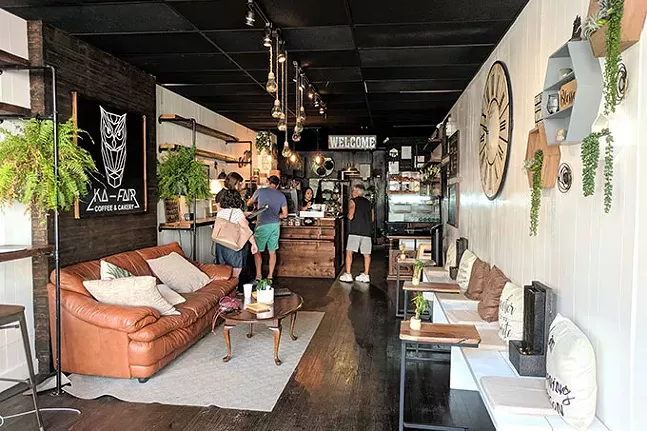 Sujitra Taimmoungpan loves coffee. And Taimmoungpan, co-owner of Morningside's newest coffee shop, Ka-Fair Coffee and Cakery, only wants to serve things that she loves.

Taimmoungpan is from Thailand and moved to Pittsburgh a few years ago for school. She worked her way through coffee shops in the city, and soon it became her dream to open a coffee shop of her own. When her employer, Rungnapa Khanchalee of Thai Gourmet, offered her the former space of The Bookshelf Café, she jumped at the opportunity.
She describes her shop as "strong but warm." Inside, dark wood accents and hard, geometric decor contrast against bright, inspirational sayings ("behind every successful woman is herself") on pillows and plaques. It's a comfy place to grab coffee-to-go or sit and read a book for hours.
The name Ka-Fair is a combination of the cafe's fair-trade focus and the Thai word for coffee. Taimmoungpan sources her beans from Commonplace Coffee, which also helped her get the shop up and running.
Before opening, Taimmoungpan knew what kind of coffee she liked, but wanted to perfect the flavor for her customers. After calling multiple distributors, she was connected with Commonplace through a mutual friend. The local roastery taught her how to balance the acidity and flavor of different batches. They even provided Ka-Fair with a second-hand espresso machine.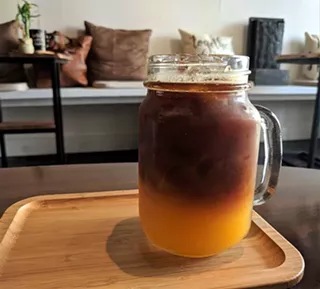 The menu at Ka-Fair features all of the common espresso drinks, along with a specialty drip each day. Taimmoungpan fuses her Thai background with the traditional drinks, adding fresh-pressed juices, bubble tea, and Thai-style smoothies to the list. One of Taimmoungpan's favorite items is the Freshpresso, a shot of espresso over fresh-squeezed orange juice. She says the orange juice smooths out the acidic espresso.
Wooden bowls are the shop's coffee vessel of choice. Taimmoungpan serves pour-overs out of small bowls just big enough to need two hands. It's a piece of Thai culture that she has brought to the cafe. The practice aerates the coffee and enhances aroma and taste. Bowls also allow the drink to change; as the beverage cools down, flavors begin to evolve.
Ka-Fair serves a small selection of pastries and a short menu. The signature is Ka-Fair toast, an elevated avocado toast with fresh mozzarella, a spicy sauce, brie, and choice of meat. They also serve crumpets, quiche, and salads. In the future, Taimmoungpan hopes to add daily features, along with allergen-friendly options. Even with a growing menu, Taimmoungpan won't call herself a chef. She just likes to cook things that make her happy.