After 33 years of producing quality children's entertainment in Pittsburgh, the EQT Children's Theater Festival (May 16-19) still has a few surprises up its sleeve – actually, quite a few. This year, families visiting the festival will be treated to a series of roving, pop-up performances from local artists like the River City Brass Band or theater group Hiawatha Project.
"They're on the schedule, you just don't know exactly where they'll show up," says EQT Children's Theater Festival executive director Pamela Komar.
But the pop-ups aren't the only thing making this year's festival memorable. For one, attendees can expect a little more room to roam, as the festival closes down Seventh Street between Liberty and Penn Avenue, leading up to Theater Square Garage. Komar says they needed additional space for food trucks, as well as the more than 50 activities and experiences available for free to the public.
"There's a little bit more outdoor space than previous years, which is exciting," says Komar. "It's a challenge to be Downtown and not be in a big park and using all kinds of spaces."
Besides the featured performances, expect to find tons of locally-produced, family-friendly delights throughout the Cultural District, including storytelling by Citiparks, LEGO derby car-building with the Steel City LEGO Users Group, and a Frog Stop Scavenger Hunt complete with treats from Millie's Ice Cream Truck.
One big highlight is the world premiere of circle circle circle, a 15-foot-tall maze installed in a parking lot on Seventh Street, constructed out of multi-colored hula-hoops by French artist Cyril Lancelin.
"We heard from the audiences that they really wanted to experience something like [circle circle circle]," says Komar.
The ticketed shows offer work from a variety of national and international touring companies. Out of the United Kingdom comes Emily Brown and the Thing at the August Wilson African American Cultural Center, a musical based on a book by How to Train Your Dragon author Cressida Cowell and illustrator Neal Layton. Also at August Wilson is Sons of Mystro, a pair of young, classically-trained musicians who transcribe pop songs into violin duets.
For a taste of something strange, there's the puppet show Fly by Denmark's Theater Patrasket and Murikamification by Netherlands-based company, Arch 8. Inspired by the works of Japanese writer Haruki Murakami, the latter takes audiences into the streets, using the Cultural District as the setting for its magical journey.
"They're very physical," says Komar, adding that Murikamification involves acrobatics and performers balancing between buildings. "It's something we've never tried before. Typically, shows take place in one space, so we're curious to see how that works out."
She believes it should be exciting, given that Arch 8's contribution to the festival in 2015 was TetrisPlus, a gravity-defying performance inspired by the block-building video game.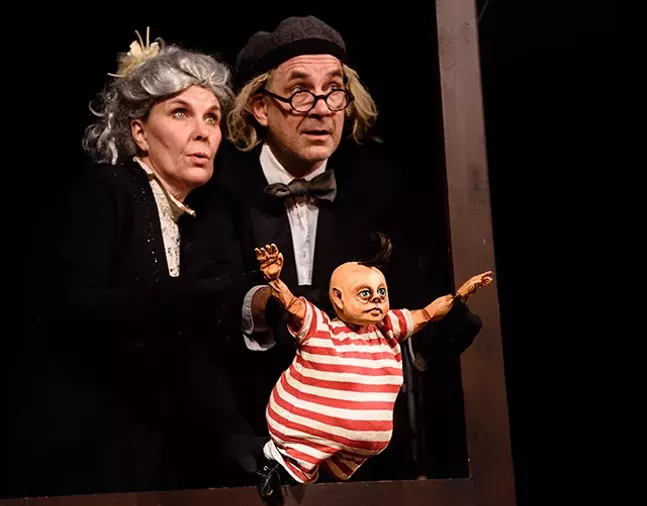 Families with young children or kids with specific needs will not be disappointed. The Mexican group Teatro al Vacio will present Sky and Stone, a gentle, movement-based show for babies and toddlers, and their caregivers. For young family members on the autism spectrum, there are sensory-friendly performances of Air Play, which uses fans to levitate objects or make huge sheets billow out over the audience, and Cityscape by the Pittsburgh-based Jumping Jack Theater.
"It's really kind of a whole menu of options of what families can put together to make their own festival experience," says Komar. "We of course want them to buy some tickets and see a featured show, but all of that free stuff is certainly accessible and entertaining as well."