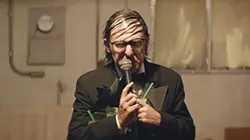 In the opening scene of Nick Alverson's film, a comedian, played by Gregg Turkington, kills to a full house. With his greasy comb-over and grimy tuxedo, he's a throwback to the long-gone Las Vegas lounge comedians who traded in off-color humor in the wee hours of the morning. In this room, he tells sophomoric, unfunny jokes, but the captive audience erupts in laughter.
Unfortunately, the room is a county prison, and the laughing inmates are a high point for the film's protagonist. Entertainment is a grim, dark journey into the life of a smaller-than-small-time road comedian who has long lost his humanity, and is on the fast track to losing his mind. While he's able to communicate and do his act on-stage, offstage he's an uncommunicative mess who can't have a real relationship with anyone. (Turkington will be instantly recognizable to some, as the comedian he plays here is an almost carbon copy of his lounge-comedian act, Neil Hamburger.)
The movie is dark and depressing, but comes with just enough great moments to hold the whole thing together. Entertainment is a tough film to watch, but like Turkington's comedian, you should keep moving forward and stick it out to the end — no matter how bad things get.