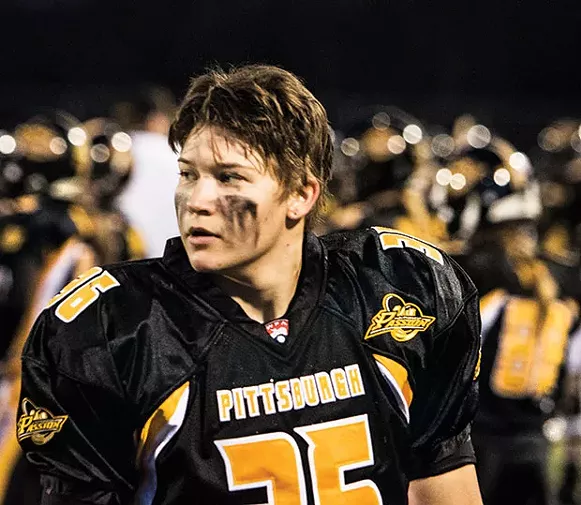 When she signed up for the boys' football team at Central Valley High School, Hannah Daman, of Monaca, told her mother, Val, "Dad said I could be a walk-on."
Her parents weren't too enthusiastic about their daughter playing tackle football. But Mark Daman said he figured maybe she wouldn't make the cut, so he gave her the green light to at least try out for the boys' team.
She made the team. Then, after graduating high school, she tried out and won a roster spot with the Pittsburgh Passion (but couldn't officially play until she turned 18). Now a sophomore at Robert Morris University, Daman is in her third season with the Passion and has no intention of slowing down.
"I'm planning to play until my bones can't take it anymore," she says. On the field, she's a force to be reckoned with. During the Passion's April 8 home game — a 65-17 blowout of the Baltimore Nighthawks — linebacker Daman led the defense with eight tackles, two for losses.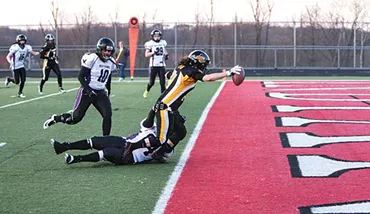 It takes that kind of intensity and devotion to play women's professional tackle football. Unlike their male counterparts, female pro-football players aren't paid seven-figure salaries. It can actually cost thousands of dollars a year to play, from uniforms to travel to insurance to rental fees for fields. Some players have sponsors to cover their costs, and ticket prices help defray some expenses. But most of the players have day jobs, and for a student like Daman, juggling practice and classes is just part of her routine.
The Passion have been around since 2002, and each season things have gotten a little easier thanks to more recognition, says team co-owner Teresa Conn.
"We're all about supporting opportunities for women," Conn says. She pointed out that the Passion's longtime quarterback, Lisa Horton, has been playing football in Pittsburgh longer than Ben Roethlisberger. "We know the men [pay] many years of dues too," Conn says, "and we believe that eventually, all this hard work will pay off."
Pittsburgh's other professional teams have been supportive of the Passion, Conn adds. But deciding how to spend the team's limited funds has often meant that marketing and publicity took a back seat to building a team. "We have to prioritize things in our budget, and trying to make sure the girls have what they need has always been the most important thing," she says. While she doesn't consider the men's sports teams in town to be rivals, on the night the Passion thrashed Baltimore, the rest of sports-watching Pittsburgh seemed to be focused on men's playoff hockey and the nascent men's baseball season.
Women's tackle football might not be getting the spotlight that women's soccer and women's ice hockey have the past few years, but players say things have improved since the early days, albeit slowly. The Passion are now one of 65 teams in the Women's Football Alliance. And for the Passion, the playing field at West Allegheny High School is a far cry from its former digs; the team used to practice outside in January, and players would sometimes have to shovel snow off the field.
Horton, now in her 15th season, says the sport has definitely evolved. "It's grown tremendously, but it took a lot of groundwork and a lot of word of mouth," she says. "Women's football and women's athletics aren't going away."
Playing with female teammates is a lot different than being the only girl on a boys' team, Daman says, and not just because she needed a separate dressing room. "The girls were more accepting, and were so willing to help you and work with you," she says.
At Saturday's game, Horton alternated between quarterback and receiver. She says that practice is partly about getting another player some time at QB, and partly about creating a succession plan for the position, another sign that women's football in Pittsburgh is here to stay.
In June, Horton will play on the U.S. National Team in the International Federation of American Football Women's World Championship. The Americans are the defending IFAF champions, looking for their third-straight gold medal.
For his part, Mark Daman says he is proud to be the only one of his friends who can boast about having a daughter playing pro football. If they weren't too keen on her playing football at first, Daman's parents are fully on board now. At Saturday's game, they were by far the loudest family in the stands, and were even equipped with cowbells to show their support for Hannah and the rest of the team.
Daman says a love of the game is instilled early for kids in Monaca, and Hannah's been hooked since she was about 10. "She loves it, and we love watching her," he says. "We're so proud."