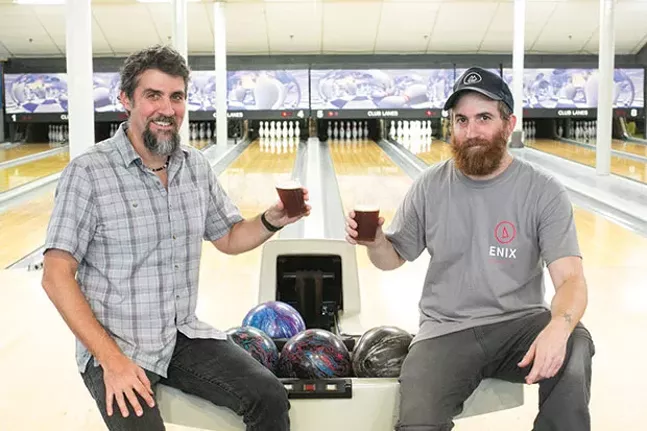 Beer, bowling and Spanish flavor are coming to Homestead this summer.
Enix Brewing Company, born out of a Spanish craft beer company, is renovating an old hardware store into a restaurant, brewery, bowling alley, and outdoor music venue.
"This is one of the [best] kept secrets in Homestead, most people don't know about it," says Enix co-founder Victor Rodriguez. "It's icing on the cake. Who has a brewery and a bowling alley?"
Rodriguez says his excitement goes beyond the prospect of bowling with a freshly poured craft beer. He's excited to add another venue to the revitalization of the 8th Avenue business district in Homestead, joining the likes of Voodoo Brewery and Honest John's restaurant.
"The borough really wants things to happen here," says Rodriguez. "They really want to get new businesses on 8th Avenue."
Victor is starting Enix with his brother David Rodriguez, and David's wife Lavinia Oancea. Enix is named after the Spanish street where the Rodriguez brothers' grandfather grew up.
David and Oancea founded one of Spain's first craft brewpubs, Mad Brewing, while living in Madrid. They decided to join Victor, who runs a development business that creates affordable housing projects in the region and bring their shared talents to Homestead.
Oancea wants Enix to collaborate and communicate with other local businesses in the area. She says the goal is to source as much as they can locally, whether that's in beer, cuisine or in supporting local music acts at Enix's small outdoor stage.
"In Spain, we started one of the first brewpubs, then we partnered with other brewpubs and worked together," says Oancea. "And we think that will be replicated here."
Spanish-style food pairing will also be part of Enix's plan. The restaurant's cuisine style will be a mix of Mediterranean and Caribbean, since its chef, Sean Skerrette, hails from the U.S. Virgin Islands. Oancea says visitors should expect flatbreads, seafood, and dishes that are easy to share with friends. Oancea describes the mix as contemporary Spanish. It may be unique to Pittsburghers, but Oancea says it will be approachable, while still authentic.
She adds that most dishes will be created to pair perfectly with styles of beer.
Enix is tentatively scheduled to open by the beginning of August, and a Kolsch-style lager and a red ale are already brewed and ready to drink. Oancea says a saison should also be ready for the opening, and eventually IPAs and quadruple Belgian ales will make it into the rotation.
And while Enix checks all the boxes for a new, hip establishment, Rodriguez says contributing to the development of the community is also part of the plan.
"I don't know many people who have opened this kind of place, who have also built more than 50 units of affordable housing," says Rodriguez.
He adds that the bowling league for Homestead old timers will still have access to the bowling alley Tuesday and Thursday. Rodriguez doesn't expect bowling league participants to be too excited about some of Enix's more exotic offerings, but he hopes they will drink some on-site brewed lagers.
Oancea hopes Enix will eventually hold events to raise funds for local charities. She also wants to bring in community members from Homestead interested in learning how to brew beer and cook in a professional kitchen. Enix is considering starting apprenticeship programs.
Victor is confident that Enix will continue to siphon more people from The Waterfront to Homestead's old, but revitalizing business district. He believes there is a hunger for locally owned businesses, ones that differ from the chain establishments of The Waterfront.
"I think the culture has changed," says Rodriguez. "People want to venture to places that aren't chains."
None of the gang involved at Enix is from Pittsburgh originally, though Victor has lived and worked in the area since the mid 2000s. With their international experience, they could have gone anywhere to start a brewpub. Oancea says that Pittsburgh, and more specifically Homestead, was the perfect fit though.
"We chose Pittsburgh because there's something about joining a city on the rise," says Oancea.