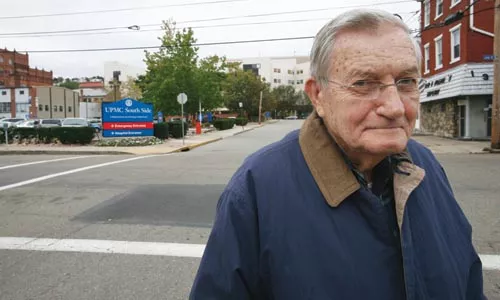 Since taking office early this year, Pittsburgh City Councilor Bruce Kraus has fielded calls from South Side residents about everything from unruly drunks to the city's decision to relocate the Zone 3 police station. But nothing compares to the uproar he's heard over the University of Pittsburgh Medical Center's plans to close South Side Hospital.
"We're pushing well into 400 letters," Kraus says, dropping three two-inch thick binders on his office table. "Pretty impressive, huh?"
Ever since June, when UPMC announced that it would merge the South Side hospital's operations with Uptown's UPMC Mercy, residents, community groups and businesses have pleaded with Kraus to help keep the South Side's largest employer intact. Though he knows taking on UPMC will not be easy, Kraus says he and other elected officials are going to do their best.
"I don't want to build false hope, but damnit, I'm not going down without a fight," he says. "That's why we're rallying the troops."
Located at 20th and Mary streets, South Side Hospital was taken over by UPMC in 1996, when the medical-service provider sought to expand its operations beyond Oakland. The facility employs more than 700 people and offers a variety of services, including emergency care, orthopedics and outpatient diagnostics. But next July, UPMC will begin transferring services from the South Side to Mercy, the Uptown facility which UPMC acquired in January and which is undergoing a $75-90 million expansion. UPMC expects to phase out the South Side facility entirely within five years.
Kraus says he started hearing concerns about the merger immediately after it was announced. In August, he sent a blast e-mail to residents and businesses throughout his district, urging them to write letters addressed to UPMC's CEO, Jeffrey Romoff.
Larry Pergzola answered his councilor's call: The 82-year-old lifelong South Sider has started a petitioning campaign, gathering about 120 signatures from residents who want to keep the hospital nearby.
"[Hospitals] shouldn't give patients any extra pain, more than what [they're] suffering with," says Pergzola, who visits UPMC South Side on a monthly basis for blood work. Closing the hospital "is almost like soft-core euthanasia."
"It's going to hurt everybody," agrees Ted Rugiel, standing across the street from the hospital with his wife, Elizabeth. "They didn't think of the older people when they did this."
Rugiel, 84, has respiratory problems and two bad knees -- "I'm in bad shape," he says, holding up his cane -- so living just a few blocks from the South Side hospital is a blessing. He and his wife have appointments there every couple of months, and once the hospital's operations move, he says, "I'll have to look for transportation."
Kraus says that could pose special challenges for elderly residents, who make up a large chunk of the South Side's population. According to 2000 census records, 23 percent of South Side Flats residents are older than 65, ranking it 11th out of the 90 city neighborhoods in elderly population.
Mercy is just two miles from the South Side, but it takes two buses -- one to Downtown and another to Uptown -- to get there from the South Side. "You're talking 90 minutes for someone to get [to Mercy] on a bus," says Kraus.
Transportation will be even trickier for District 3 residents who live in "hilltop" communities like Arlington, Knoxville and Beltzhoover. Crossing bridges during rush hour is never easy, but south of the rivers, the only nearby hospital options are St. Clair Hospital, in Scott Township, and Jefferson Regional Hospital, in Clairton.
The South Side won't just be losing medical services if the South Side Hospital closes: Hospital employees make up a sizable chunk of the customer base for restaurants and other businesses on East Carson Street.
"It has to hurt business down here," says Vincent Cortazzo, general manager of Nakama, a restaurant located at the corner of 17th and East Carson streets."The lunch hour will definitely get hit. ... It's a shame."
Gloria Kreps, UPMC's senior manager of media relations, would not answer questions about UPMC's plans. Instead, Kreps e-mailed a short statement, reading: "Quality health care is the essential driving force for decisions made about how and where health care will be provided in UPMC. We have evaluated various alternatives and this [merger] is the m[o]st prudent use of these resources."
Pergzola is happy that his neighbors and elected officials are trying to keep the South Side hospital open. But he isn't optimistic about the odds of winning a fight with the health-care giant.
"I guess we're going to lose," says Pergzola. "I don't know whether the politicians are giving us a load of baloney."
Kraus says that earlier this summer, he thought UPMC's stance was unwavering, too. But after meeting with a UPMC government liaison official a few weeks ago, he says, the hospital's position on the merger isn't as "rigid" as it was when officials spoke with the community earlier this year.
"They're steadfast in their position that they want to merge, but I didn't get the impression that it's the done deal that people thought it was," Kraus says. "I have a gut feeling that there's room for negotiation."
Kraus says he's gotten support from a number of elected officials, including state Reps. Harry Readshaw and Chelsa Wagner, both of whom represent areas south of the rivers.
Readshaw says he's willing to join the effort, but "I'm not optimistic at this point." UPMC officials, he says, flatly told residents at a neighborhood meeting this summer, "There's nothing you can do: We're closing it."
But while Wagner acknowledges that UPMC probably won't budge, she says, "I think there's a chance" to keep the South Side hospital open -- especially if more elected officials join the effort.
Kraus is hoping U.S. Sen. Arlen Specter (R-Pa) will be one of them. According to Kraus, Specter is in favor of keeping the hospital open, and when Specter comes to Pittsburgh in October, Kraus hopes the powerful senator will help convince Romoff to change UPMC's plans.
Specter did not return phone calls for comment.
Kraus is also seeking hundreds of additional letters opposing the hospital closing. Then he hopes to set up a meeting with Romoff, "to show him concrete evidence that people are opposed to this," he says. "We're not going to let this happen."
At some point, the neighborhood may have to begin exploring alternate uses for the facility. But Kraus says "It's too early for that.
"We want the focus to be about this fight right now. It's too important to too many people."