Pittsburgh's affluent East End has the kind of problems many neighborhoods would kill for. Case in point: trying to choose a city councilor to represent District 8, which encompasses Shadyside along with portions of Squirrel Hill and Point Breeze. 
Longtime councilor Bill Peduto isn't running for re-election, to focus on his mayoral bid. Three Democrats — activist Jeanne Clark, Peduto aide Dan Gilman and attorney Sam Hens-Greco — are seeking to replace him. (The winner will likely face Republican Mordecai Treblow in November.) Choosing between them may not be easy.
Planned Parenthood, for one, made no endorsement because all three candidates are strong on reproductive rights. And the candidates have largely abided by a pledge to run positive campaigns. Still, they have different styles, and Gilman and Clark especially hold different positions on key issues.
Gilman, for example, strongly backs a citywide ban on natural-gas drilling. While gas companies have shown little interest in drilling here, Gilman says, "There are still many questions" about its environmental impact. Clark, who previously worked for the environmental group PennFuture, disagrees. "If you don't like natural gas," she warns, "you end up using coal." The ban, she says, only makes it harder to attract drilling firms to Pittsburgh office space. 
Hens-Greco takes a middle course: With the state Supreme Court set to issue a decision on whether local zoning rules apply to drillers, "I think it belongs on the city's books for now."
The candidates have similar differences on Mayor Luke Ravenstahl's lawsuit challenging UPMC's tax-exempt status. Gilman favors the suit, while Clark says the city will be outgunned: "When you deal with a bully, you have to anticipate how that bully will behave." Hens-Greco has recommended a "collaborative tax project" approach, in which nonprofits would pay some portion of their tax burden, while the city "sells" the remaining tax credit to other taxpayers.
But all three candidates have one thing in common: the challenge of getting their race noticed. As Hens-Greco puts it, "The question you most often get [from voters] is 'What do you think of the mayor's race?'"
 "For more than 40 years, I've been working in Pittsburgh and other places for women's rights, gay rights and environmental protection," Clark tells audiences. That legacy has earned Clark, 63, endorsements from such national figures as Feminist Majority head Eleanor Smeal and Kate Michelman, former head of the National Abortion Rights Action League. (More locally, Clark's backers include the Allegheny County Labor Council and Allegheny County Executive Rich Fitzgerald, a longtime ally.) She's been a highly visible critic of Mayor Luke Ravenstahl, as when his police bureau promoted officers previously accused of domestic violence. In one widely-reported incident, Ravenstahl accosted her on a "cookie cruise" fundraiser in honor of the late mayor Bob O'Connor.
Clark says schooling issues are a large concern: While city officials don't control the school district, she says school buildings could house city-run "wraparound services" for kids after the school day is through. But women's issues — like the dwindling number of female police officers on the force — are a central concern in her campaign. "There are virtually no women on boards, commissions and authorities," Clark says. "And if you're not at the table, you're on the menu."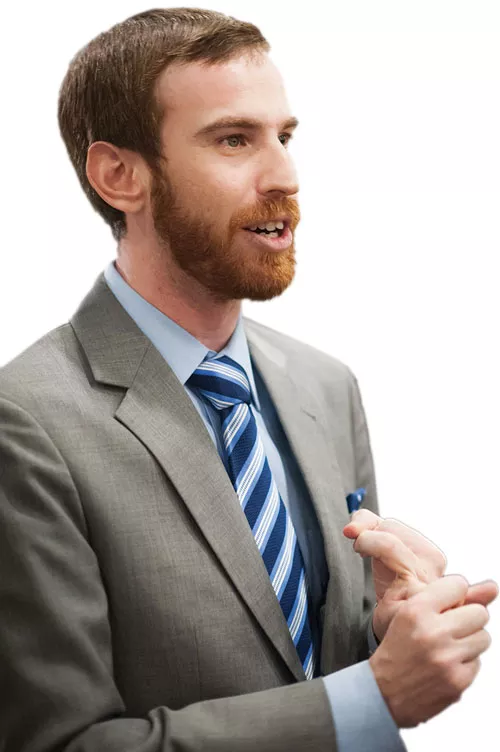 Though Gilman, 30, is the youngest candidate in the race, he's stressing experience and continuity. Hired by Peduto after graduating from Carnegie Mellon University, Gilman boasts of having "years of experience, working block by block." And he pledges that, because of his familiarity with district issues, he'll be able to "hit the ground running" as a councilor.
Gilman also touts a theme of innovation, proposing government efforts to find low-cost office space for incubators. Like his boss, he stresses the importance of adopting new technology in government. "City building inspectors don't have email!" is a common Gilman lament.
Gilman has racked up a bevy of endorsements, including SEIU, the local paramedics union and AFSCME, which represents public employees. Gilman also snagged the Democratic Party endorsement, surprising many: Clark and Hens Greco have headed the party's 7th and 14th ward committees respectively.  
But would Gilman have a hard time interacting with the mayor's office, if Peduto loses to Jack Wagner or Jake Wheatley? "I don't worry about that one bit," Gilman says. "I've worked well with others, and there are people supporting my campaign who back Jack Wagner and Jake Wheatley." 
Hens-Greco, 56, might seem like a dark horse. He hasn't been in government like Gilman, and his political activity draws less public attention than Clark's. But observers say he's been door-knocking assiduously, and his activism hasn't gone unnoticed. A lawyer, Hens-Greco has offered services to newly arrived immigrants, victims of anti-LGBT discrimination, and other causes. He's fond of quoting a backer who told him, "I'm going to support you because you live your values."
Hens-Greco has proposed several initiatives during the campaign, from providing tax incentives for rain barrels to allowing members of the public — rather than just city officials — to park in spots near the City-County Building.  But for him, he says, the campaign "has really been about gun violence. Everybody is concerned, and I think it's an issue that can transform the city" — perhaps by spawning the creation of a "gun-violence" czar. 
Hens-Greco is short on specific proposals, and gun violence might seem a remote issue in District 8 neighborhoods, among the city's safest. But "when you have people firing guns Downtown at 4 p.m.," Hens-Greco says, "it doesn't matter what district you're from."