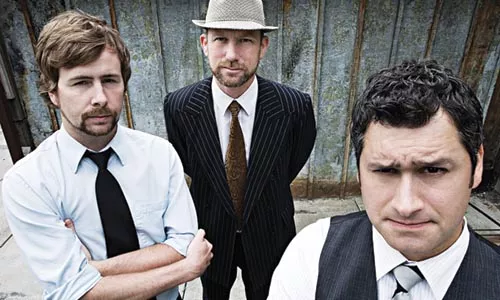 Canadian trio Elliott Brood displays an allegiance to gothic murder ballads and the shadowy edges of alt-country -- proving "brood" an appropriate moniker indeed. The 2005 debut LP, Ambassador, was recorded in an abandoned slaughterhouse; its dark burbling bluegrass twang ranges from an assassination ode to JFK ("President 35") to the loping malevolence of backstabbing revenge fantasy "My Friend." The bleak, haunted air recalls the Pentecostal furor of 16 Horsepower or the bedeviled ache of Will Oldham in his Palace days.
The trio's latest, Mountain Meadows, moves beyond those inspirations, bringing forth a more lively trad sound with snatches of pop buoyancy that invokes the Avett Brothers. The album earned a Polaris nomination (given to the year's best Canadian album), a small indication of its vibrancy and irrepressible allure.
But the subject matter's still dark: 13 songs based loosely around Utah's 1857 Mountain Meadows massacre. The combination is particularly effective on the rattling, ramshackle paean to a bitter young man, "Write It All Down For You," with its rousing "hey hey hey" backing chorus. And the foot-tapping young-love anthem, "Miss You Now," bursts from the seams with a jangly, ringing British Invasion melodicism, like "I Wanna Hold Your Hand" gone Appalachian.
Elliott Brood. 10 p.m. Sat., Nov. 28. Thunderbird Café, 4023 Butler St., Lawrenceville. $10. 412-682-0177 or www.thunderbirdcafe.net