From internationally known novelists to local poets, there'll be plenty of literature to hear between now and the holidays.
Pittsburgh's biggest reading series, Monday Night Lectures, kicks off Sept. 22 with James McBride (The Color of Water); McBride arrives on the heels of his National Book Award for The Good Lord Bird, his novel about abolitionist John Brown. The Pittsburgh Arts & Lectures series also includes visits to the Carnegie Music Hall by: Simon Winchester (Oct. 6), the nonfiction author behind The Professor and the Madman and this year's The Men Who United the States; Eat, Pray, Love author Elizabeth Gilbert (Nov. 3) with her new novel, The Signature of All Things; and revered novelist Richard Ford (Dec. 8).
PAL also has a Kids & Teens program. Featured this fall are illustrator Jon Klassen and writer Mac Barnett (Oct. 26), the guys behind Extra Yarn whose new picture book is Sam & Dave Dig a Hole. And Wicked author Gregory Maguire (Nov. 9) returns with Egg & Spoon, a book inspired by Russian folk tales.
Just out back of the Carnegie, in the Frick Fine Arts Building, the Pittsburgh Contemporary Writers series gets going, too. This University of Pittsburgh program welcomes award-winning guests including poet Lucie Brock-Broido (A Hunger: The Master Letters), on Sept. 25; nonfiction author Adam Hochschild (King Leopold's Ghost), on Oct. 16; and fiction writer NoViolet Bulawayo, on Nov. 20. The University of Pittsburgh Press, meanwhile, hosts Kent Nelson (Oct. 2), the Colorado-based writer who won this year's Drue Heinz Literature Prize, for his short-story collection The Spirit Bird: Stories; for thematic reasons, the reading's at the National Aviary.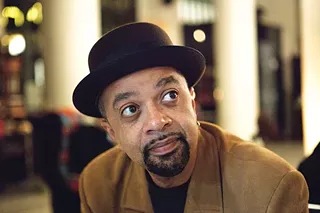 It wouldn't be fall without our annual visit from essayist David Sedaris (Oct. 21), who stops this year at Carnegie Music Hall. And author Robert D. Kaplan (Dec. 6), a foreign-policy expert and national correspondent for The Atlantic, speaks at Shadyside Academy's Hillman Center for the Performing Arts, in Fox Chapel.
City of Asylum/Pittsburgh's fall offerings begin with I Don't Know What I'd Do, If I Couldn't Speak My Mind (Sun., Sept. 14), its annual free-speech-themed community reading. Also performing that week is Botswana-born spoken-word poet T.J. Dema (Tue., Sept. 16). But the big event under the group's Alphabet City Tent, on the North Side, is the Exiled Voices Mega-Reading (Oct. 18). It's a 10th-anniversary reunion of all five authors the group has sheltered from persecution in their home countries, including Chinese poet Huang Xiang, novelist Horacio Castellanos Moya, poet Khet Mar, novelist Israel Centeno and fiction writer Yaghoub Yadali.
Local poets get their due this season as well. East End Book Exchange, for one, has a full slate of readings, including its monthly series Versify, which continues Sept. 20 with top local poets Lynn Emmanuel, Joy Katz and Ellen Smith. And on Oct. 11, the store hosts local poets published in U.S. 1 Worksheets, the annual journal of the venerable U.S. 1 Poets' Cooperative: The locals include Joan Bauer, Anne Curran, Richard St. John and Arlene Weiner.
There's even poetry at Dormont's Hollywood Theater. On Sept. 19, celebrities including actors David Conrad and Patrick Jordan will read as part of The Troopers Rode On. It's a tribute to the gritty, plain-spoken (and often very funny) poetry of Jimmy Cvetic, the former Allegheny County police detective now better known as a poet and boxing instructor, and an occasional CP contributor. The show benefits the Western Pennsylvania Police Athletic Association.