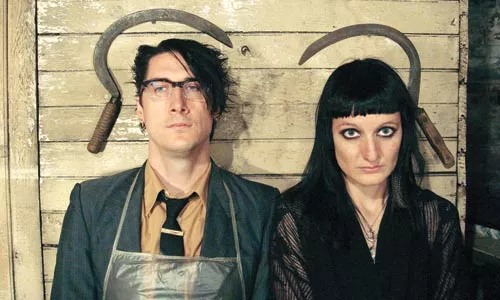 In 1998, it was amazing to hear a record that eerily evoked the cold electronica first purveyed by the likes of Fad Gadget and The Normal in the late '70s. That record, Dispassionate Furniture, proved only the first of several great EPs issued by Detroit band Adult., one of the harbingers of the turn-of-the-millennium electro and post-punk revival.
Adult. formed when Adam Lee Miller (a.k.a. "Adam Equation") left his three-year-old electropop band Le Car and started the new duo with photographer girlfriend Nicola Kuperus. (The two later married.) They combined Miller's rigid, dystopian electro beats with Kuperus' deadpan vocals, which are rife with social anxiety and existential dread: "Let's Feel Bad Together" is their newest download ditty. The technique struck a significant chord with indie hipsters, and the band was invited to play the first electroclash festival in New York City.
Not wanting to be pigeonholed, Adult. has since disavowed association with the flash-in-the-pan electroclash trend, and stayed fiercely independent. Most of the duo's catalog has been released on their own Ersatz Audio label, which has a fine roster of such darkly-tinged electro artists as Magas, Lowfish, DMX Krew and GD Luxxe.
Occasionally, though, they've teamed up with the reputable Thrill Jockey label. Their 2005 album Gimmie Trouble, on Thrill Jockey, heralded a brief guitar-oriented era featuring third member Sam Consiglio and a tour with Trans Am.
Adult. played the Warhol Museum several years ago, and the band's second-ever Pittsburgh performance is this Friday at CMU, where it's liable to cause a new generation of art-school kids to don stark-patterned clothing, dance like androids and admire Modernist architecture.
Adult. with Erase Errata and Cold Case. 8 p.m. Fri., May 1. College of Fine Arts lawn, Carnegie Mellon University campus, Oakland. Free. All ages. 412-268-2105 or www.activitiesboard.org