Photos by Theo Schwarz
Heather Arnet (center), the Democratic candidate for Pennsylvania's 37th District state Senate seat, meets with volunteers from Planned Parenthood, at Panera Bread in Oakland, on Nov. 3, Election Day.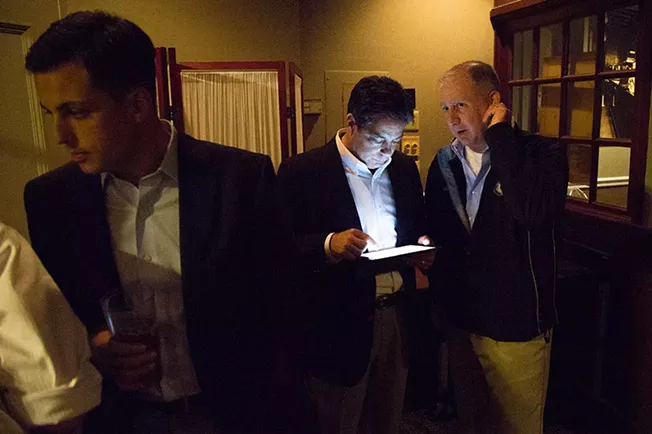 Photos by Theo Schwarz
At the election party at Bado's in Mount Lebanon, Rep. Dan Miller (right), of the 42nd Legislative District, and Jay Costa (left), state senator for the 43rd District, discuss the numbers as districts begin to report totals. Arnet chose to wait at home while results came in.
Photos by Theo Schwarz
By the time Arnet arrived at Bado's, she was down 5 percent with over 50 percent of the total votes accounted for.
Photos by Theo Schwarz
As the remainder of the districts reported, the gap widened to 7 percent, and Reschenthaler secured the win. Arnet remained on the back porch of Bado's with her campaign staff.