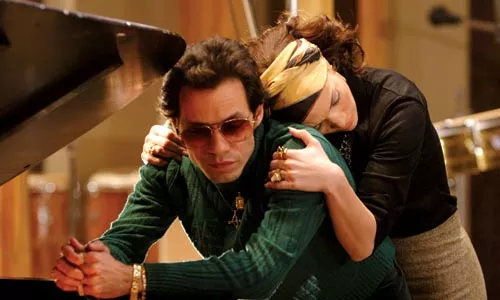 Ay, Dios mio. Fame, fortune and flying crockery. The turbulent life of famed salsa singer Hector Lavoe and his hot-tempered lady love is brought to the big screen in El Cantante, a warts-and-bling-and-bongos spectacle. Leon Ichaso's bio-pic has the emotional depth of a halfway decent made-for-TV movie, but despite its flaws, this mix of melodrama, music and Miss Jennifer Lopez stays entertaining, if only as a guilty pleasure.
The story begins with an awkward setup -- a black-and-white, docu-style prologue in which we meet Lavoe's wife, Puchi (Lopez), who, in 2002, is being interviewed about her late husband. (Lopez, who co-produced, must have held fast for the least amount of aging makeup to portray a woman several decades into some hard living.)
Then we jump back to 1985, where we see Puchi at her finest -- a tight red dress, diamonds, fur coat. But her limo takes a detour to the barrio, where she retrieves Lavoe from a drug den. She drags him into the car, gets him dressed (and freshly boosted with cocaine) and propels him onstage to the cheers of an adoring crowd. If these are the "good" times, ay yi yi!
After these two snapshots depicting the aftermath and the top of the heap, the film flips back to the beginning. The Puerto Rican-born Lavoe (portrayed by crooner Marc Anthony, the current Mr. J. Lo) arrives in New York City in the mid-1960s. Almost simultaneously (at least according to this "inspired by" account), he meets Puchi, learns to smoke reefer and joins a band that plays a mlange of Latin rhythms soon to be dubbed "salsa." A superb vocalist and deft performer, Lavoe becomes a star, and sets course for more music, more women, more drugs, more trouble.
Ichaso is primarily a television director who has dabbled in feature films (Pinero, Bitter Sugar), and he favors some amateurish techniques. He shoots Lavoe's drug use in super-serious slow motion; in illustrating the trajectory of Lavoe's career, he relies heavily on rapidly edited montages. For those unfamiliar with the Latin music scene of the 1970s and '80s, Ichaso doesn't put Lavoe's stardom in much context.
Likewise, El Cantante is hardly a well-rounded portrait of Lavoe. Through Puchi, we get limited secondhand insight into Lavoe's demons and a few wispy reflections. (The bigger he got as an artist, the deeper he sank as a human being.) Lavoe's prodigious drug use is simply filed under "it was the times."
While the film depicts Lavoe as engaged and energetic onstage -- and Anthony does a fine job here, whipping his body around like a rope toy in a puppy's mouth -- we never truly learn what the music means to the man. In his troubled life, does it offer relief, joy, transcendence? Is the adulation of the crowd another drug to be ingested regularly, lest he collapse? We sense Lavoe's possible struggles with his gift only during his heartfelt embrace of El Cantante (The Singer), Ruben Blades' melancholy lament of the performer who must give always, while never receiving.
Another drawback to El Cantante is that Puchi's version of events is admittedly self-serving, and her story isn't as interesting. It might have been, had the narrative delved deeper. But Puchi as portrayed here isn't especially likable: bad tempered, self-centered, shrill. Lopez tries to breathe life into the role, but the script mostly has her operating on two settings: laughing and dancing, or angry and seething/screaming.
That said, if you love J. Lo the tabloid-page fixture, El Cantante won't disappoint. Puchi, much like our Miss Lo, favors colorful, body-hugging outfits, sparkled up with big jewelry, exuberant hairstyles and high heels. (Halfway through the film, I regretted not keeping a tally on her costume changes.)
The numerous musical performances are lively (if anything, too lively, with rapid-fire cuts and Ichaso's camera zooming everywhere), and El Cantante may win some new fans to the infectious horn-and-percussion-heavy music. The endless shots of Lopez shaking her goodies to the beat can't hurt record sales
In the end, this labor of misplaced love from Icasho (who co-wrote) and his stars is just a brightly colored Spanglish soap opera (albeit with only two characters). It's a salsa too -- variously biography, rags-to-riches-to-rags saga, music video and superstar vanity project -- a jumble of styles that never get in harmony. Fans of salsa are apt to be irked by the largely one-dimensional portrait of the music's celebrated king; newcomers will tap their toes and wonder why all the fuss over another troubled junkie performer. In English, and some Spanish, with subtitles.