Edward Eberle Retrospective, at Contemporary Craft, is one of the more beautiful solo exhibits I've seen in recent years. Eberle is a nationally recognized, Pittsburgh-based ceramacist best known for his architecturally shaped works in porcelain, embellished with images in black and white terra sigillata. The show traces three decades, from his early works with mostly figurative imagery on more traditionally shaped vessels to later, larger and increasingly abstract images and forms.
Characteristic figurative works feature humans in procession around the vessels' sides or circumference, as in ancient Greek pottery. Drawn with clean, sensual lines, Eberle's figures — male, female, animal, sometimes human-animal hybrids — overlap and intertwine; partly because most of his humans are either naked or in medieval or ancient dress, many seem to be enacting some cryptic parable or other. While a few works (like 1992's "Eros and King") have telltale titles, the overall effect is dreamlike, with an odd mixture of unease and unconcern.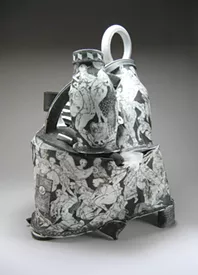 In later works, like 1995's "Twenty-five Years in Barcheland," the vessels' planar or rounded sides yield to fabric-like folds and pouches. "Extramural" (2000) puckers open at one seam to reveal an occultish spheroid inside. "Whiplash II Revised" (2005) moves fully into deconstruction, with its feet like a lunar module, its upper parts twisted and exploded into 3-D geometry.
Eberle, born in Tarentum in 1944, worked for years in Millvale, and since 2012 has occupied a studio in Homestead. (The exhibit includes a large photo of his studio and a display of his brushes.) Some of his latter-day works suggest completed pieces cracked apart then reassembled in different configurations. Some are much larger than his earlier, tabletop-scaled works. The 4-foot-tall "Time" (2013) handily (if dizzyingly) summarizes his career, with its deconstructed figurative pieces topped by an array of abstract forms. But there's still room for quips like 2016's eggcup-sized "California Water Jar (ironic)."
The exhibit's 45 works receive ample breathing room in Contemporary Craft's spacious gallery. Included are three of Eberle's recent large paper cylinders, of which "Cylinder 1121" is especially brilliant with color and gorgeous shapes, some reminiscent of Miro.
Eberle's individual mastery of ceramics and drawing is rare enough. This show — his first career retrospective — is a chance to appreciate his rarer-still ability to blend those talents into a fascinating whole.