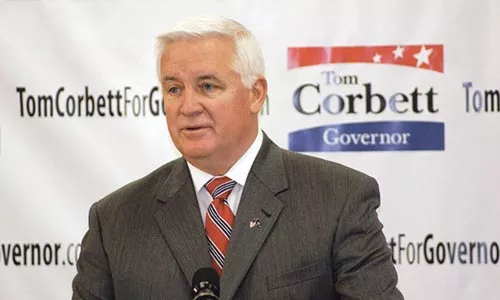 Ever since Gov. Tom Corbett announced funding cuts for Pennsylvania colleges and universities, many students have wondered what the cuts would actually mean to them. With the fall semester right around the corner, they're about to find out.
The state's 14 fully public universities took a $90 million funding cut in the current year's budget. That amounts to a revenue decrease of as much as one-fifth of their state funding. So far, the result has been tuition hikes, unfilled vacancies and furloughed employees. Next may be cuts to entire programs.
"Just like in your own family, you would like to do everything for the house and for your children, but it's just not possible," says Michelle Fryling, a spokeswoman for Indiana University of Pennsylvania.
Located about an hour east of the city, IUP has left 50 staff positions unfilled for the start of the term, while furloughing 10 non-faculty employees. It has also cut a redundant chemistry program and is looking to its German program for more potential cuts.
Such changes result from an annual review of programs: Last year's review shuttered two dozen programs to new students statewide.
It's a process that happens every year, says Karen Ball, vice chancellor for external relations for the Pennsylvania State System of Higher Education. The system oversees the 14 state universities, which have cut some $200 million from the schools' budgets in the past decade.
"When we heard about the cuts, our chancellor said, 'We are not going to ask our students and parents to make it all up,'" Ball says.
Ball says that schools only consider cutting programs that graduate six or fewer students each year. And schools try to minimize the impact on students currently enrolled, she says: If students are still involved in the major, the school has to let them complete it before closing the doors. New students, however, can be barred from declaring their major in a program facing a shutdown.
Ball doesn't know how many more programs will close down in the coming year: Schools make those decisions on their own before presenting them to the statewide board next summer.
Meanwhile, cuts are striking closer to home for Pittsburgh students. The University of Pittsburgh is a state-related university which, like Penn State, receives a smaller portion of its budget from the state. Cuts are driving Pitt to increase tuition by more than $1,000, while cutting $40 million from its almost $2 billion budget. But Pitt officials have not said where the cuts will come from, and spokesman John Fedele did not return repeated calls for comment on this story.
And it's not just four-year schools that have felt the pinch. The Community College of Allegheny County lost 5 percent of its budget after losing all its state funding.
In response, CCAC spokesman David Hoovler says, the school has instituted a hiring freeze and left faculty positions unfilled. It also increased tuition by $2 to $87.25 a credit hour. Those and other measures, Hoovler says, will give the college time to "evaluate our situation."
The goal, he says, involves "having a responsible budget and having a good educational environment. We essentially have everything on the table at this point."