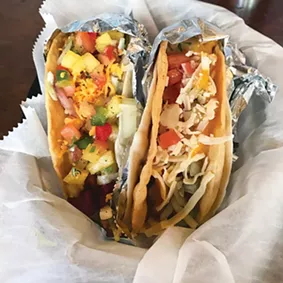 Location:
Condado, 971 Liberty Ave., Downtown
Ambiance:
The decor is intense, like Day of the Dead meets your modern-design course in college. The corner bar is nice, because it gets light from all sides.
What I ate:
The Mantis Taco
Cost: $4

Hot take:
The jackfruit makes for a great vegetarian option, without sacrificing texture or flavor. Habañero-mango barbecue is tangy and hot, and a nice contrast to the fatty cheese which pulls the whole taco together.