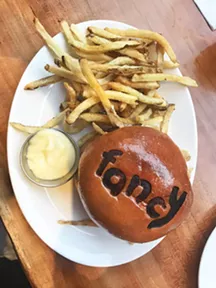 Location: Butterjoint, 214 N. Craig St., Oakland
Ambiance: Butterjoint is a quaint little bar where you can hole up with a friend or two to drink fancy wine, microbrews and cocktails.
What we ate: "Fancy burger of the day"
Cost: $16
Hot Take: Butterjoint releases a new menu every day to keep ingredients fresh and local so the topping on the fancy burger changes often. Mine had Swiss cheese, green garlic relish and aioli, which made for a decadent and slightly spicy combination. The burgers here never disappoint.