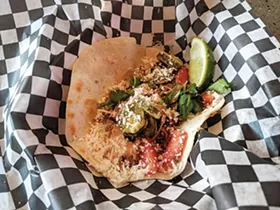 Location: Doce Taqueria, 1220 E. Carson St., South Side
Ambiance: Steady stream of customers. Pop-punk blasting from the speakers. Lots of sugar-skull artwork. Everyone in the place, both customers and staff, is in good spirits.
What we ate: Cajun Remy Chicken taco
Cost: $3
Hot Take: I got the special of the day, a taco with shredded chicken, farmer's cheese and fried jalapeno. The meat was moist and well-seasoned, and the fried jalapeno had a great kick. Mid-bite, my dining partner yelled out to our waiter, "Best tacos in the city!"