One Day in Town
Big changes continue to occur in this rapidly gentrifying neighborhood. This end of town has become the hot spot for new restaurants, hotels and cultural events and fancy new apartment complexes seem to spring up every other week. For a peek at the changes, stop by the Ace Hotel (120 S. Whitfield St., 412-361-3300), housed inside a renovated YMCA, for its every-day brunch (a rarity) at The Whitfield, or pop in for an evening lounge at the bar, and a show in the former gym space. Care was taken to preserve the interesting architectural elements of the building, giving it a lived-in, modern chic vibe.
For cutting-edge entertainment, check the schedule at the Kelly-Strayhorn Theater (5941 Penn Ave., www.kelly-strayhorn.org). This venue hosts everything from nationally known dance troupes to theater, music and community events. Don't worry if you're feeling a little light in the wallet; many of its programs have a "Pay What Makes You Happy" option to help make the arts accessible to everyone.
If all of this socializing leaves you uncentered, check out Yoga Love (134 S. Highland St., www.yogalovepgh.com). The schedule of classes offers vinyasa flow, meditation, weights and a reduced-price community session.
Vegetables, fruits, meats and cheeses abound at the Citiparks Farmers Market (Station Station Street and North Euclid Avenue parking lot) every Monday. Wander through the stalls, chat up your local farmer to learn what's in season and get some weeknight dinner inspiration from May through November.
Feed your brain at the Carnegie Library East Liberty Branch (130 S. Whitfield St., www.carnegielibrary.org). This airy, modern space provides a convenient spot to snuggle up with a good book or spend some quiet time with your kids. Whether you want to jump on a computer to do research or learn about community events and classes, you'll find this a great resource.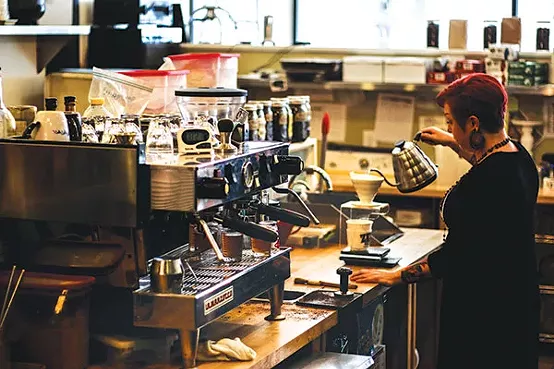 Food
BRGR. Dine casually but still in style. The gourmet burgers and spiked shakes put a delicious spin on American fare. 5997 Centre Ave., 412-362-2333
Dinette. Thin California-style pizza, a great wine list and fresh herbs give this pizza place a fine-dining edge. 5996 Centre Ave., 412-362-0202
Everyday's a Sundae & Café. This little spot has the feeling of a small-town storefront. Satisfy your sweet tooth with some ice cream, or grab a hearty breakfast. 6014 Centre Ave., 412-363-2233
Muddy Waters Oyster Bar. Snack on oysters and pork rinds, or sip champagne and indulge in some gumbo. 130 S. Highland Ave., 412-361-0555
Paris 66 Bistro. Step in the door and be transported to a café in France. Enjoy a crepe, a croquet sandwhich, a salad and, of course, some moules. 6018 Centre Ave., 412-404-8166

Plum. A comfortable but still sleek mainstay in the East Liberty restaurant scene, Plum serves up pan-Asian food with a modern twist and sushi to hang their hats on. 5996 Centre Ave., 412-363-7586.
Pizza Taglio. Roman-style pizza and a BYOB policy make it easy to cozy up here. People-watch through the big front windows while you have a slice. 126 S. Highland Ave., 412-404-7410
Social. A lively gathering spot in the heart of Bakery Square with upscale pub food, TVs and a large bar. 6425 Penn Ave., 412-362-1234
Tana Ethiopian Cuisine. This place is as sweet as the tej (honey wine) it serves. Vegetarians and meat-eaters will enjoy a taste of Ethiopia in the spacious spot. 5929 Baum Blvd., 412-665-2770
The Twisted Frenchman. Modern French cuisine meets stunning presentation. Dine at the chef's table for a totally decadent and immersive experience. 128 S. Highland Ave., 412-361-1340
Union Pig & Chicken. A smoker out back wafts the smell of barbecue through the air at this modern meat-lover's paradise. Follow it up with a stiff cocktail. 220 N. Highland Ave., 412-363-7675
Zeke's Coffee. This small shop guarantees a good cup of joe. Its storefront is perfect for meeting friends, or getting some work done while caffeine-fueled. 6015 Penn Ave., 412-670-0862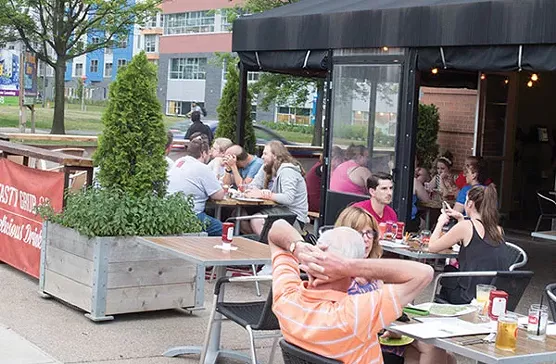 Bars & Clubs
Capri Pizzeria & Bar. This neighborhood pizza shop is a social hub with a large bar. Check it out on a Tuesday to hear slam poetry from Steel City Slam. 6001 Penn Ave., 412-363-1250
Kelly's Bar & Lounge. A longstanding local favorite, this original Art Deco-styled bar provides a stiff drink, a back patio and DJ entertainment. 6012 Centre Ave., 412-363-6012
The Livermore. Feel chic while sipping from a killer wine list. This corner spot with large windows is a place to be seen. 124 S. Highland Ave., 412-361-0600

Sharp Edge Beer Emporium. Belgian beers and many other malted beverages are on the dozens of taps at the Sharp Edge. Find something new to try every time. 302 S. St. Clair St., 412-661-3537
Spoon. Loosen your tie (a little) and check out the wine list for a sip. The cocktail menu is obsessively curated for quality. 134 S. Highland Ave., 412-362-6001
Wallace's Tap Room. Stop by the Hotel Indigo for a peek at this new addition. A large beer list and classic cocktails give everyone something to imbibe. 123 N. Highland Ave., 412-665-0555
Arts & Culture
Alloy Studios. This black-box theater, run by the Kelly-Strayhorn Theater, has programming including dance and spoken-word shows. 5530 Penn Ave., 412-363-3000
The Gallery 4. This small but colorful gallery invites the eye and showcases local, national and international artists who are on the leading edge of creativity. 206 S. Highland Ave., 412-363-5050
Kelly-Strayhorn Theater. A true artistic hub, the theater hosts residencies that produce some of the finest cutting-edge work in dance, spoken word and performance art. 5941 Penn Ave., 412-363-3000
Quantum Theater. Although headquartered in East Liberty, Quantum puts on avant-garde, site-specific shows in surprising locations around the city. Each performance is designed to engage its audience beyond what meets the eye. www.quantumtheatre.com
Shopping
Bakery Square. This shopping center features stores like West Elm, Free People and Anthropologie. Plus eateries. Stop for a bite or a coffee after shopping. 6425 Penn Ave., www.bakery-square.com
Goodwill. A perfect place for bargain shopping, this Goodwill has a nice selection of housewares and clothing. For those who have extra things, this is great place to make a donation. 5993 Centre Ave., 412-924-0070
Trim Pittsburgh. Pick up something sexy for the special dude in your life at this men's designer underwear and swimwear boutique. 5968 Baum Blvd.,412-512-9251
Other Spots of Interest
East Liberty Presbyterian Church. There is no place better for a moment of peace than beneath the incredible stained-glass windows and vaulted ceilings of this sanctuary. 116 N. Highland Ave., 412-441-3800
Mellon Park. A lovely hilltop park in the middle of the city features walled gardens, a fountain and plenty of lush green space for picnicking. Penn and Fifth avenues
Tech Shop. This community workshop provides all the equipment you need to create. Learn and build with classes and memberships. 192 Bakery Square Blvd., 412-345-7182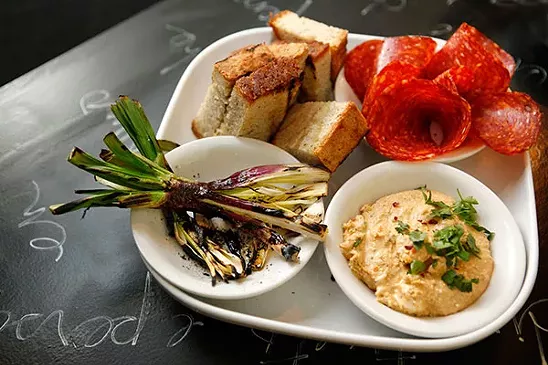 Not-to-miss Attractions in nearby Highland Park
e2. Casual dining with a lot of thought behind the menu. The food is simple and delicious with a focus on local foods. 5904 Bryant St., 412-441-1200
Food Glorious Food. A small bakery with a huge diversity of delicious confections. Try the quiche or indulge your sweet tooth with a macaron. 5906 Bryant St., 412-363-5330
Highland Park. Take a jog around the reservoir, stroll the gardens or catch a summer concert in this beautiful park. Main entrance at the intersection of North Highland Avenue and Bunkerhill Street. www.pittsburghparks.org.
Pittsburgh Zoo & PPG Aquarium. Animals from land and sea convene here for one of the city's most popular destinations. Check out the tropical installation The Islands to witness the newest additions. 7340 Butler St., Highland Park. 412-665-3640
Tazza D'Oro. This is a quaint little coffee shop that's a nice place to meet a friend or do some reading. Excellent curated coffee menu. 1125 N. Highland Ave., 412-362-3676
The Union Project. This multi-purpose space is a great place for community events and classes. Check out the schedule to see what's coming up. 801 N. Negley Ave., www.unionproject.org.