One Day in Town
Within a town known for its skyline, East Liberty is a neighborhood with its own striking view; from a distance, the sight of towering churches, murals and the antique-green dome of the historic Motor Square Garden (which now houses AAA) gives the impression of a mini city.
But there's more to this walkable area than attractive architecture.
Start the day with a trip to Zeke's Coffee (6015 Penn Ave., 412-670-6231). This family-owned, small-batch roastery started in Baltimore, but has made a home for itself in Pittsburgh. The shop recently left its teeny-tiny location for a bigger space, so there's lots of room to enjoy coffee and the array of delicious house-made pastries. If you're really in a hurry, swing by Zeke's drive-thru (6314 Broad St.).
If you're in a spiritual mood (or just a historically curious one), stop by East Liberty Presbyterian Church (116 S. Highland Ave., 412-441-3800). This is a true community hub, welcoming people from all walks of life with concerts, support groups, yoga and other health classes, labyrinth prayer walks and much more.
Seeking some fresh produce, locally raised meat and other delights? You're in luck. Mondays, check out Citiparks' seasonal, outdoor farmers' market (Station Street and North Euclid Avenue, www.citiparks.net). And on Saturdays year-round, the Farmers' Market Cooperative of East Liberty (344 North Sheridan Ave., 412-661-4414) sets up in an indoor venue.
For dinner, check out Union Pig and Chicken (220 N. Highland Ave., 412-363-7675), which mixes traditional barbeque with modern-foodie flair. (A menu description of its "Meaty Mac" mentions brisket, pork, bleu cheese and wasabi.) You can also head upstairs after eating to the cozy Harvard & Highland cocktail bar to enjoy the work of skilled mixologists.
Speaking of which, Kelly's Bar & Lounge (6012 Centre Ave., 412-363-6012) is the perfect place to finish off the night. This hip spot — a longstanding local favorite — is known for its vintage-cocktail menu, but it's also a worthy place for a shot-and-a-beer and a late-night (veg-friendly) bite.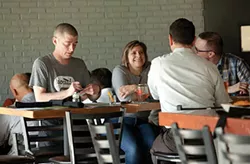 Food
Asiatique Thai Bistro. Less-common dishes like lemongrass salad mix well with the popular Thai entrees of noodles, rice and curries. 120 Bakery Square Blvd., 412-441-1212
BRGR. A casual restaurant that revisits America's contribution to global cuisine with gourmet toppings, along with traditional and spiked shakes. 5997 Centre Ave., 412-362-2333
Dinette. Small plates and California-style thin pizzas come with inventive toppings, many grown fresh in the rooftop garden. 5996 Centre Ave., 412-362-0202
Everyday's A Sundae & Cafe. A small, brightly painted joint, offering sandwiches, coffee and ice cream. There is something for everyone. 6014 Centre Ave., 412-363-2233
Impressionz. This modest, family-run venue blends Jamaican island cuisine with welcoming service. 6008 Broad St., 412-362-7134
The Livermore. This Bar Marco sibling started as a great place for craft cocktails but recently has changed its focus to homemade Italian specialties. 124 S. Highland Ave., 412-361-0600
Paris 66 Bistro. Your stop for crepes, croques, hearty soups and salads, all in a worthy approximation of a French café. 6018 Centre Ave., 412-404-8166
Pizza Taglio. This bright new spot is Pittsburgh's source for Roman-style pizza, topped with fresh cheeses, arugula and cured meats. 126 S. Highland Ave., 412-404-7410
Plum Pan Asian Kitchen. An extensive menu lets diners sample sushi, Thai curries and tropically infused cocktails, in an elegantly modern space. 5996 Centre Ave., 412-363-7586
Social. A casual, lively eatery at Bakery Square offers upscale pub grub, including salads, pizza and sandwiches. 6425 Penn Ave., 412-362-1234
Tana Ethiopian Cuisine. This welcoming, spacious spot offers a wide selection of entrees for meat-eaters and vegetarians alike, as well as a variety of Ethiopian beers and tej (honey wine). 5929 Baum Blvd., 412-665-2770
Bars and Clubs
East End Brewing. While technically not a bar, this Pittsburgh brewery serves pints and tastings and is not to be missed. The IPA and brown ale are this spot's mainstay, and it hosts food trucks on site most Fridays and Saturdays. 147 Julius St., www.eastendbrewing.com
Sharp Edge Beer Emporium. With dozens of beers on tap and an even larger bottle selection, Sharp Edge has an insane variety of brews, plus one of the widest selections of Belgian beers around. 302 S. St. Clair St., 412-661-3537
Spoon. For a slightly more chi-chi crowd, these drinks are expertly made and the wine list never disappoints. The bar is more approachable than the dining room for a "one drink" kind of night. 134 S. Highland Ave., 412-362-6001
Arts and Culture
Alloy Studios. Dance performances and spoken-word shows are among the events programmed at this spacious venue, run by the Kelly-Strayhorn Theater. 5530 Penn Ave., 412-363-3000
The Gallery 4. Artists local, national and international show their work at this cutting-edge gallery, which mostly exhibits 2-D pieces. 206 S. Highland Ave., 412-363-5050
Kelly-Strayhorn Theater. This all-purpose theater's niche includes live music, spoken-word programs and some of the city's most cutting-edge dance, including work developed in residency. 5941 Penn Ave., 412-363-3000
The Maker Theater. DIY space best known for its slate of improv-comedy performances, but which also hosts live theater and more. 5950 Ellsworth Ave., www.themakertheater.com
Quantum Theatre. Though headquartered in East Liberty, Quantum wanders the city, repurposing everything from cemeteries to vacant warehouses for site-specific productions from Shakespeare to "devised" avant-garde works. www.quantumtheatre.com
Shopping
Bakery Square. Just down the street in Larimer, this shopping center features high-end chains like Anthropologie, West Elm, Free People and others. 6425 Penn Ave., www.bakery-square.com
Natural Stitches. If you — or somebody you know — enjoys knitting or crocheting, be sure to pop in at this warm-and-fuzzy yarn shop. From skeins of basic wool in dozens of colors to exotic blends of silk and cashmere, plus needles, patterns and even free advice. 6401 Penn Ave., 412-441-4410
Olive & Marlowe. A specialty store that offers an amazing variety of artisanal olive oils and vinegars. From olio nuovo — the first press of season — to maple balsamic vinegar, it's a must-stop for cooks and foodies. 5975 Broad St., 412-362-1942
Panache Boutique. This women's clothing store, which has been around since 1983, focuses on all-natural, organic fabrics and personalized service. 6008 Centre Ave., 412-661-6008
The Shop in East Liberty. This sweet little store centers on beautiful design, offering a range of home goods, art, jewelry and more. 214 N. Highland Ave., 412-450-0258
Social Status. This boutique (which also has a location Downtown) is a destination for up-to-the-minute footwear and urban fashion. 5929 Penn Ave., 412-404-2147
Uptown Sweats. This is the flagship store for Kiya Tomlin's line of versatile, easy-fit, comfortable but still stylish women's casual wear, such as T-shirts, wrap pants, dresses and rompers. The shop shares space with Sandra Cadavid jewelry and handbags. 5983 Broad St., 412-361-2100
Other Spots of Interest
Carnegie Library of Pittsburgh: East Liberty Branch. This newly renovated library just off Penn Avenue is a bright, airy spot to take a breather. Comfy chairs and desks facilitate both leisure and work, whether you're leafing through a new magazine, checking your email or just resting. 130 S. Whitfield St., 412-363-8232
Mellon Park. An expansive public park that was once the personal garden of Richard Beatty Mellon. Its athletic area (tennis, baseball, kids' playground) stretches down Penn toward Bakery Square. From there, it's a short walk across Fifth Avenue to wander in the park's famed "Walled Garden." Penn and Fifth avenues
Tech Shop. Making things is hot, and this community-based workshop and prototyping studio can help you get started, with classes in welding, serging, book-binding, laser cutting, 3-D printing, wood working and so much more. 192 Bakery Square Blvd., 412-345-7182