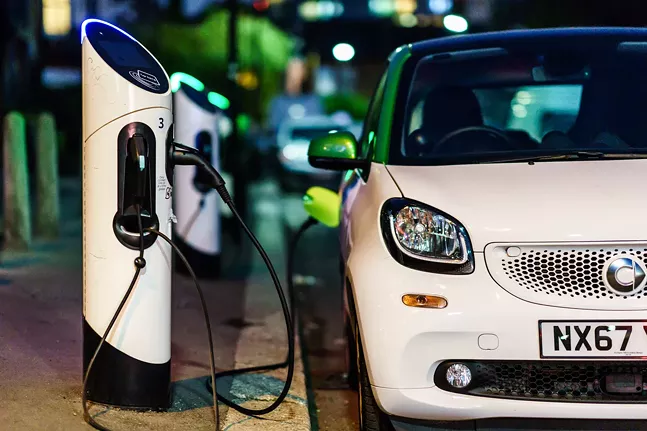 Six new electric vehicle charging stations are coming to a public parking lot in East Liberty, paid for from the funding Pennsylvania received from Volkswagen's $14.7 billion settlement with the federal government.
Gov. Tom Wolf announced Thursday that Pennsylvania's Department of Environmental Protection would distribute $8.5 million from the settlement to
clean energy projects across the state
. The $245,650 grant Pittsburgh receives will fund two direct-current fast chargers and four Level 2 electric vehicle charging stations in the Parking Authority Lot at 6117 Kirkwood Street, across the street from Target. Each of the six dual-hose stations will have the ability to charge two vehicles at once, and the charging stations will be available to the public at all times.
In a city press release on Thursday, Pittsburgh Mayor Bill Peduto thanked Wolf for funding electric vehicles in Pittsburgh.
"Pittsburgh is continuing to build out EV infrastructure citywide, getting us ever closer to reaching our goals of being 100 percent
fossil-fuel free by 2030
. I want to thank Gov. Wolf, the DEP, the Parking Authority and our hard-working city staff for believing in this vision and helping to make it a reality," Peduto said in the press release.
The city has pledged that its fleet of 1,200 vehicles, boats, and trailers will be fossil fuel-free by 2030. Currently, the city owns 19 "fully-electric" sedans. Additionally, Pittsburgh's planned Bus Rapid Transit system would
incorporate
up to 25 electric buses. Port Authority plans to introduce the first two electric buses this year.
The Volkswagen settlement was reached in 2016, after the automaker admitted to creating supposedly "clean diesel" cars that were designed to cheat EPA air quality tests.